Purple Cabbage Pesto Salad
Recipe Taste
Not Specified
Yield / Serves
2 Servings
Purple cabbage pesto salad is a tasty and healthy salad made in a jiffy.
Canned jalapeno slices 2 tablespoon
Extra virgin Olive oil 1 tablespoon
Toasted black and white sesame seeds 1 tablespoon
Saute broccoli florets in Olive oil for 2 minutes.
Shred the cabbage, dice the cucumber.
Put all this in a bowl along with jalapeno. Add pesto, salt and pepper.
Add toasted sesame seeds and serve immediately.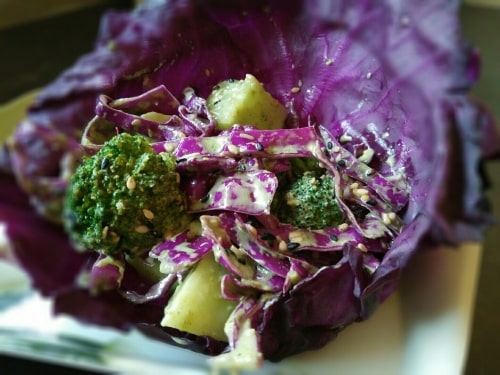 How useful was this post?
Click on a star to rate it!
Rated 4.2 based on 6 votes
Be the first to rate this post.