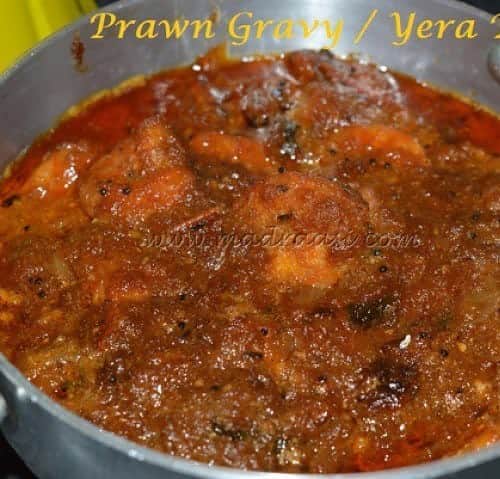 Already I have shared few prawn recipes, you could check them at: http://madraasi.com/main-course/non-vegetarian/seafood/. This is totally different from the others, may be the ingredients would lightly differ but the taste, colour and texture of the gravy is totally different. It has mild sweet, tangy and spicy taste. This goes out well with any variety rice especially with curd rice. Let us move on to the recipe…
Ingredients
Prawns / Shrimps – 500 gm

Onions – 500 gm

Tomato – 250 gm

Chili powder – 1 tsp

Turmeric powder – ¼ tsp

Cumin powder – 1 ½ tsp

Methi / Fenugreek / Vendhayam powder – ¼ tsp

Mustard seeds – ¼ tsp

Cumin seeds – ¼ tsp

Curry leaves – a sprig

Coconut oil – 2 tbsp

Salt to taste
Instructions
Peel and roughly chop the onions, crush them in a blender or using pestle and mortar.

Wash and finely chop the tomatoes into small pieces.

Heat oil in a kadai, add in the mustard seeds, cumin seeds and curry leave. Wait until they crackle.

Add in the crushed onions, ginger-garlic paste and cook until they turn golden brown in color.

Add in the chopped tomatoes and cook until they turn mushy.

Add in the turmeric, chili, and cumin and fenugreek/methi powder along with salt. Cook until the raw smell goes off.

Add in the prawns/shrimps and cook for 5 mins.

Pour in a cup of water and cover with the lid, wait until the prawns are cooked.

Remove the lid and keep in medium flame for 5 mins, until the gravy thickens.

Serve hot with any variety rice or any Indian breads.