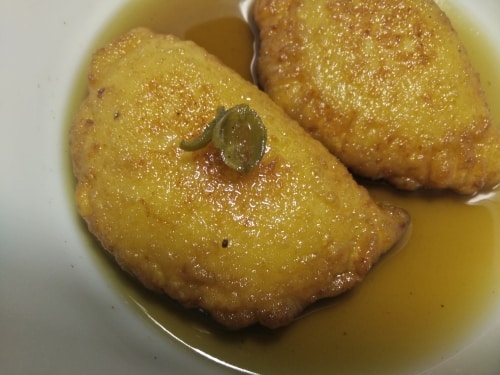 Potato Pulis
29 January, 2017
Its a Bengali dish and can be made with sweet potato also.
Ingredients  
(1 cup when boiled and mashed potatoes

4

tbsp

All Purpose Flour / Maida

2

tbsp

Rice Flour

For the Stuffing:

1

cup

Grated Fresh Coconut1/2 cup Powdered Jaggery

Powdered Jaggery

For the Syrup:

6

tbsp

Sugar

6

tbsp

Jaggery

powdered

1 1/4

cup

Water

1/8

tsp

Cardamom Powder
Instructions 
Combine the coconut and jaggery in a pan and let the jaggery dissolves completely.Cook on a medium flame.

Stir continuously until you get a thick mixture.When the mixture thickens, remove from the flame and let it cool.Divide it into 9 – 10 equal portions and set aside.

Boil the potatoes until soft.Peel and mash them until smooth.Add the rice flour and maida to the mashed potatoes and knead it well to form a smooth dough.The dough should be soft and non sticky.Divide the dough into 9 – 10 equal balls.

Flatten the dough ball with your greased palm. Place the coconut stuffing in the center.

Carefully fold the dough to form a semi circular. Seal the edges.Repeat with remaining dough.Until you deep fry the stuffed dough, keep them covered to avoid drying.

To make the syrup, combine the sugar, jaggery and water in a vessel and stir until jaggery dissolves completely.Add the cardamom powder and let it boil on a low-medium flame for 10 minutes.Turn off the flame and keep the syrup warm.

Heat oil in a pan for deep frying.Deep fry the stuffed pulis over a medium flame until golden brown color.Remove from the oil and immediately drop them into the warm syrup.Let them soak in the warm syrup for 5 minutes or sometime.Serve warm or cold.