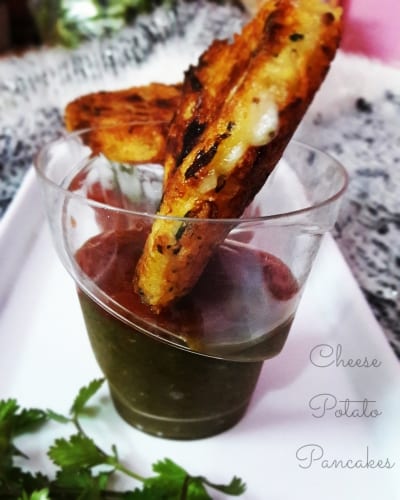 Potato Pancakes
26 January, 2017
These pancakes are crispy outside and mushy inside.They are the best option for evening snacks or in your lunch also,you can have with crispy butter fried bread. But i have made this for my small get together new year party at home and it was enjoyed by all of my friends,relatives and specially kids,as cheese is kids favorite ingredient. This is an egg free recipe as mostly these pancakes are made from egg binding,but this is total vegetarian appetizer.So even vegetarians can also enjoy this recipe. You can have these pancakes with your favorite ketchup or green chutney or with mayonnaise also.
Ingredients  
Mozzarella cheese

grate it - 1 Cup

Spring onions - 2 tbsp(finely chopped

Potatoes - 2 big sized

Cornflour powder - 2 tbsp

Fresh Coriander leaves - 1 tbsp

finely chopped

Salt as per taste

Freshly grounded black pepper - 1 tsp

Oil - 2 tbsp

for fryingIn non-stick pan.(if you are using a normal wok then need to add more oil for it)
Instructions 
Method- Firstly take the raw potatoes,peel them and grate it.Now squeeze the water from the potatoes and keep aside. Grate mozzarella cheese keep aside Take the finely chopped white and spring onions and mix it with the grated cheese and potatoes

Now add cornflour powder,coriander leaves,salt and black pepper powder and mix it very well. In the mean time start heating up your non stick pan by adding oil in it.

After this take small portions of the mixture in your palm and make a patty shape from this(do it very gently otherwise it can break) You can pat some oil or water in your hand to avoid from breaking.

Now take the pancakes and put them in the pan for frying. You can fry 3 to 4 pancakes in one batch not more than that ,because its little tricky to flip them.

Now take a flat spoon and press it gently on the pancakes and let it turn golden brown. When you will find that one side is done,then flip it very gently.

When your both the sides are golden and crispy,it means its done. Take your cheese potato pancakes out from the pan and put it on an adsorbent paper. Your crispy Cheese Potato Pancakes are ready to relish.
Notes
While making the patties take small portions of the mixture in your palm and make a patty shape from this(do it very gently otherwise it can break)