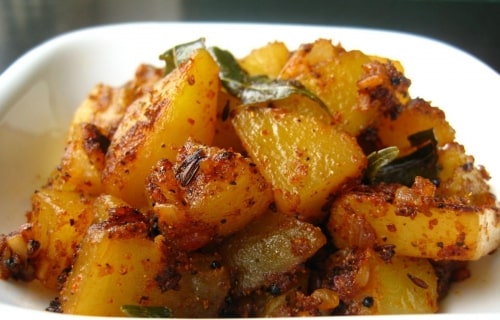 Potato Curry Recipe
potato curry recipe is one of the easy and flavorful recipe which goes well with both rice and chapati. here im sharing Spicy Potato Curry recipe with simple steps.
Ingredients
Potato – 6

medium size

Onion- 1

chopped

Green chilli – 2

Curry leaves – few

Curry leaves – few

Ginger garlic paste -1 teaspoon

Chili powder-1 teaspoon

Garam masala-1 teaspoon

Coriander powder-2 teaspoon

Chili chicken powder-1 teaspoon

Food colour-a pinch

Oil for deep fry

Salt as needed

Coriander leaves few

Sugar-a pinch

To temper: Mustard seeds-1 teaspoon

Bay leaf-1
Instructions
First wash the potato and cut it in to a slice

In a pan add oil for deep frying, after 5 minutes put the potato in to the oil and fry till it becomes golden brown

In a pan add oil for tempering, and then add mustard seeds, bay leaf, and onion fry the onion till the colour changes to golden

Now add ginger garlic paste and fry until the raw smell disappear, add green chili, chili powder, coriander powder, garam masala, chili chicken powder, food colour, salt and a pinch of sugar fry for 5 sec and add the fried potato.

mix it well now add sprinkle the little amount of water and cook for 5-10 minutes

Finally add curry leaves and coriander leaves cover with lid for 5 minutes

Hot and spicy potato curry recipe is ready to eat.

here i shared south Indian potato curry recipe method.

Potato curry recipes can be served with Hot rice and side dish for chapati.