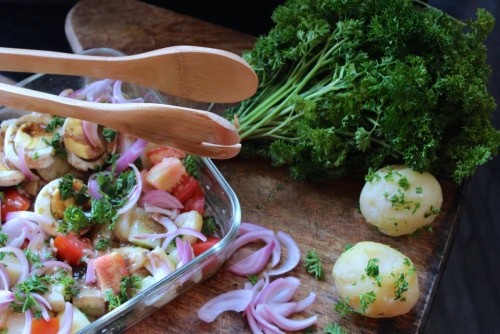 Potato And Egg Summer Salad
The concept of summer salads is catching up in India in the Metro cities!The reason being that people who have a sedentary life are having problems like Obesity,Diabetes and related complications.A proactive approach is needed to bring down this epidemic and ensure fitness levels among everyone. People in India love Potatoes.Deep fried,spicy,subzis,fries,pakodas – name it you have the versions.Then it comes written in large letters "Potatoes are laden with fat"! REALLY? When you boil it – NO! When you fry it – YES! So why is the hype about obesity and weight gain so much on the humble Potato when you can have it boiled and cut neatly into a delicious salad?Which is why I present a great tasting salad which has every possible thing you will enjoy – Potatoes,hardboiled eggs,crispy,cool summer vegetables,a wonderful dressing,vinegar Onions and sprinkled with Parsley for a great refreshing taste in the mouth!This salad is apt for those summer days when you do not want to have your 3 (or 4) rotis,subzi and hurriedly cut vegetables you call a "salad". This in the correct sense is a correct salad,a meal in itself and very tasty.This is a sincere request that if you have grown tired of having your routine lunch,change it for once!You will feel lighter,your tummy will feel fuller and you will be introduced to a healthier option!So scrap those rotis and rice for something different and try changing yourself for the better!Cheers!
Ingredients
2

Potatoes – boiled

peeled and diced

4

hardboiled eggs – boiled

peeled and diced/cut into roundels

1

small Cucumber – peeled and diced

1

Tomato – diced

1

Onion – sliced

2

tsp

salt

1

tsp

pepper

1

tbsp

white Vinegar

2

tbsp

Parsley – chopped fine

For the Salad Dressing :

1

tbsp

Balsamic Vinegar

1/2

tbsp

Mustard

1

tbsp

Honey

2

tbsp

salad dressing of your choice

I used Caesar's – optional

3

tbsp

Olive Oil
Instructions
Prepare the Onions : Add 1 tsp salt and vinegar to the sliced Onion and mix well.Keep aside for 10 – 15 minutes till the Onion absorbs the vinegar liquid.

Mix the vegetables : Mix cucumber and Tomato in a bowl.Put the diced Potatoes and egg slices on a plate and sprinkle the remaining salt and pepper on them.

Prepare the Salad : Divide the Potatoes evenly in 2 serving bowls.Add half of the Tomato-Cucumber into each.Arrange the sliced Onion on the sides and put the egg slices in the middle.
Notes
NOTES FOR PERUSAL :
Its optional to use hardboiled eggs.You can omit them completely or use other protein kick ingredients like boiled lentils,boiled beans,peas,cottage cheese (paneer),tofu or soybeans.
I have used Parsley as the main herb.If you do not get it,you can use Coriander,Celery or Mint leaves.
I used Balsamic Vinegar for the dressing.If you do not have it use white vinegar.Wine vinegar also gives an excellent taste.