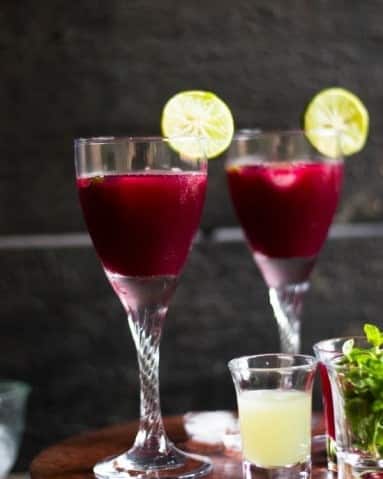 Pomegranate Lemonade
This pomegranate lemonade take much time to make, and it's such a refreshing summer twist on the traditional lemonade. Plus, the beautiful pink of the pomegranate juice just looks so pretty up against that lemony yellow slice. And it's perfect if you're looking for a non-alcoholic Valentine drink. So why wait....set the table and serve this Pomegranate Lemonade on this Valentine's Day.
Ingredients
Pomegranate juice - 2 cups

Fresh Lemon Juice - 1/4 cup

Black Salt - 1/4 tsp per glass

Ice Cubes

few mint leaves and lemon wedges for garnishing
Instructions
Deseed the Pomegranate and place on a sieve. With the back of a spoon press the pomegranate seeds, this way you will be able to extract fresh juice.

This way you can get more vitamins, antioxidants and other nutritional elements.You can also use store bought Pomegranate Juice.

In a tall glass, place some Ice Cubes and add some black salt to it. pour 1 tablespoon lemon juice to it.Yo can check for taste and if needed can add more lemon juice.

Pour the freshly collected Pomegranate juice over it. Place a lemon wedge on the rim of the glass.

Decorate with some mint leaves and serve chilled.