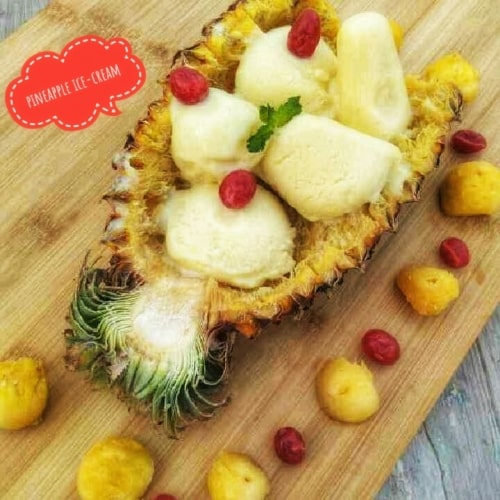 Pine Apple Ice-Cream
19 June, 2018
Pine apple ice cream is very yummy and delicious.
Ingredients  
½ cup milk

½ cup condensed milk

3

tbsp

sugar

1

tsp

corn flour

½ tsp vanilla extract

½ cup cream

For pineapple mix - 1 whole pineapple

½ cup sugar
Instructions 
To make the pineapple mix, clean and cut the pineapple.

Make a puree of the pineapple in a blender without adding any extra water.

Cook the blended pineapple with a sugar in a nonstick sauce with intermittent stirring.

Cook till the pineapple has a chutney like consistency. Remove from the heat and cool it completely.

To make the ice-cream, heat the milk, condensed milk, sugar on a very low flame till the sugar is melted.

Now mix the cornflour mix into the above and cook until it is thick.

The thickness is just till it coats the back of the spoon when dipped in it.

Add the vanilla extract and cool it for 15 - 20 minutes.

Whip the cream and fold into the vanilla mixture.

Finally mix the pineapple mix and fold in till everything comes together.

Refrigerate in the freezer for 7 hours.

After 7 hours our pineapple ice-cream is ready to eat.