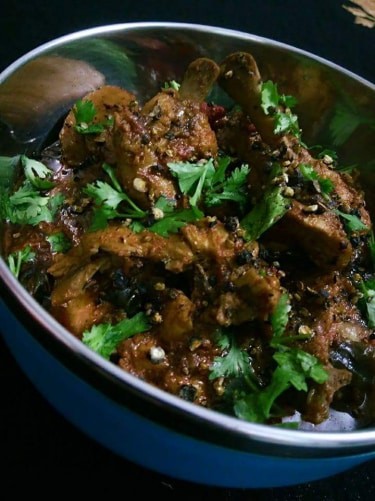 Pepper Chicken
28 February, 2018
Pepper Chicken is from the chettinad cuisine. It is an aromatic and slight hot and spicy dish. The main hero in this dish is the peppercorns and the freshly grounded spices makes the dish more flavorful and aromatic. It is simple and easy to prepare with just few basic ingredients which are easily available in our kitchen.
Ingredients  
Chicken - 400 gms

Oil - 3 tbsps

Fennel seeds - ½ tsp

Cumin seeds - ½ tsp

Mustard seeds - ½ tsp

Curry leaves - 1 sprig

Onion - 2 finely chopped

Ginger garlic paste - 2 tsp

Chilly powder - 1 tsp

Tomatoes - 1 finely chopped

Garam masala powder - ½ tsp

Coriander leaves - a handful finely chopped

Salt to taste

Water as required

For grinding: Cumin Seeds - 1 tsp

Coriander seeds - 1 tsp

Black Peppercorns - ½ tsp

Black Peppercorns - 3 tsp grind coarsely separately. Keep aside.
Instructions 
Grind the 3 ingredients mentioned in the grinding list to fine powder. keep aside.

Heat oil in a pan. Add the mustard seeds, fennel seeds, cumin seeds, curry leaves and fry for a min. Add onions and fry until onions turn light brown. Add the ginger garlic paste and fry for a min.

Add turmeric powder, chilly powder, grounded masala powder and saute for two mins. Now add the tomatoes and fry till it turns mushy.

Add salt and some water, mix well and bring to boil for 2-3 mins. Now add the chicken, mix well, cover the pan with lid and continue to cook in low medium heat for around 10 mins. Add the Garam masala powder and mix well and cook for around 5 mins.

Add the grounded black peppercorns and chopped coriander leaves, give a quick stir and take off the flame.