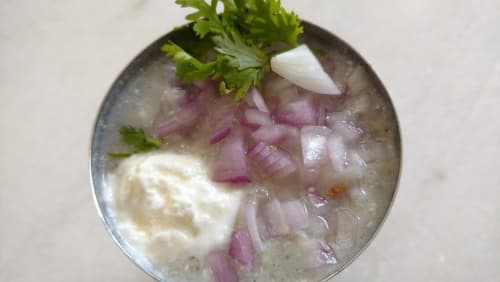 Pearl Millet Porridge For Weight Loss
29 May, 2017
Pearl millet porridge popularly known kambu koozh in south Tamilnadu is rich in minerals n protein. Power full for controlling diabetes. Easy to prepare and can be stored upto a week when refigiated.
Ingredients
Pear millet 1cup

Water 2 cups

Salt to taste

Low fat yogurt 1cup

Onions n raw mango to taste
Instructions
Wash n soak Bajra for 15min drain water and dry roast it. When it becomes cool grind it to powder it

Now mix the Bajra flour in 2 cups of water n mix well without any lumps. Now place it on the stove in very low flame n cook. Add salt to taste

When everything come together as a whole mass switch off the stove. Let it cool

Now make two ball out of it put it in bowl full of water n refrigerate it

Serving suggestions. Take one full ball of Bajra out of water. Add curd n mix it well using ur hand( feel free to use hand to mix up the porridge). Add little water to make the porridge little thinner consistency

You can adjust the salt to ur taste now. Top it with little onion n raw mango. If ur foodie like me just accompany the porridge with pickel. It taste awesome
Notes
Mix the curd only before serving or else it become very sour
You can drink this for making ur body temperature instantly cool.
As it doesn't contain any fat u can drink as much as u can.