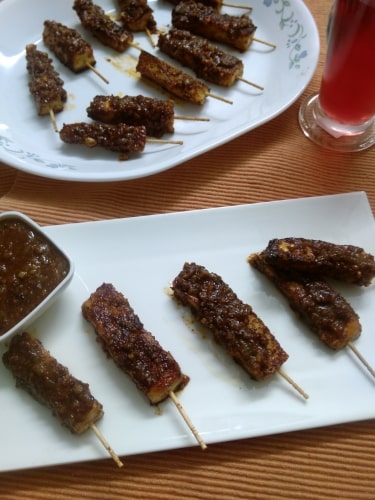 Peanut Sauce Coated Paneer Satay
13 April, 2017
Peanut sauce coated paneer satay is inspired by Thai cuisine where peanuts are used in many of their foods. Satay is any food or portion of food that is skewered and grilled along with various condiments and sauces. Here I have used the peanut sauce to cover the paneer to prepare the delectable paneer satay. Thin metal or bamboo skewers (also called satay sticks) are used to hold the food that are to be grilled. After grilling the peanut sauce coated paneer I served them in toothpicks. This makes an interesting toothpick appetizer or starter that the guests will just love to pick and eat. I made the peanut sauce at home and will be giving the recipe for the sauce too over here.
Ingredients  
For the Peanut Sauce:

50

gm roasted peanutes

1

tbsp

roasted sesame seeds

1

onion

chopped finely

5 to 6

cloves

garlic

crushed

piece

of ginger

crushed

1

tsp

coriander seeds

1/2

tsp

cumin seeds

6 to 8

pepper corns

1/2

tsp

brown sugar

1

tbsp

soy sauce

1

tbsp

honey

4

tbsp

coconut milk

1

tbsp

lemon juice

oil as much needed

salt as needed

Ingredients for the marinade:

400

gm paneer

1

tbsp

ginger-garlic paste

1

tbsp

soy sauce

1

tsp

lemon juice

2

tsp

brown sugar

2

tsp

honey

1/2

tsp

chilli powder

1/2

tsp

coriander powder

salt to taste
Instructions 
To prepare the peanut sauce, first coarsely crush the roated peanuts and sesame seeds and keep aside. Then grind the spices, chilli powder, coriander and cumin seeds and pepper. Keep this aside too.

Heat oil in a cooking pan, add the chopped onions and saute until they turn brown in color, then add the ginger and garlic and saute. Next add the coarsely ground peanut and sesame and stir well, reduce the heat.

Add the ground spice powder, sugar, honey, soy sauce, salt and coconut milk and mix well. Add 1/2 cup water and allow the sauce to simmer and continue cooking until the sauce thickens and acquires a nice glaze.

Remove from stove, add the lemon juice, adjust the taste and allow to cool. The sauce can also be prepared beforehand and stored in a glass jar in the refrigerator and used as needed.

To marinate the paneer, first gently cut the paneer into long fingers. Place the paneer pieces in a wide bowl. Add all the ingredients given above for the marinade and mix and cover the paneer pieces. Keep in the refrigerator for 30 minutes.

Heat up a grill pan and brush it with oil. Reduce the heat to low. Place the marinated paneer over the grill pan and grill on all the sides. Apply the remaining marinade in the bowl over the paneer fingers with a brush in between while grilling.