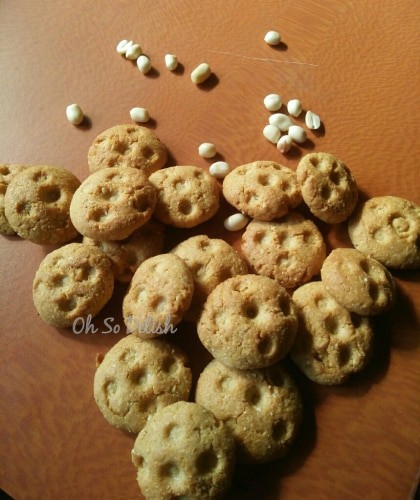 Peanut Jagerry Coconut Cookies
15 May, 2017
Peanut jagerry coconut cookies are sugarless cookies and without any leaving agents, made with whole wheat flour, peanut, and desiccated coconut. Jagerry is used as the sweetner which add it's own flavor to the cookies. It is A perfect snack for your kid's snack box, they will love it. The flavor combination of peanut, coconut with jagerry is absolutely perfect. The cookies are hard outside, soft and chewy inside.
Ingredients  
Peanuts 40 g

Desiccated coconut 20 g

Organic wheat flour 60 g

Organic jagerry 50 g

Egg 1

Butter 40 g

Cardamom 2

Pure vanilla extract 1 teaspoon
Instructions 
Grind the peanuts with the seeds of cardamom into coarse powder. Small bits of peanut taste good so no need to grind to fine powder.

Cream the butter and grated jagerry well for about 5 minutes, can use hand beater.

Add egg and vanilla extract, beat for about a minute.

Add desiccated coconut and ground peanut, mix well with your hand.

Add the whole wheat flour and form a dough, this will be a sticky dough. If it's too sticky you may add little more flour.

Cling wrap it and refrigerate for an hour for it to set well so that cookies can be made.

Pinch small amount of the dough, flatten it slightly between your palm and place on the parchment lined baking tray.

Bake in a pre heated oven at 180 degrees for 15-20 minutes or until the edges turn golden brown in colour.

Take the tray out and let the cookies remain on the tray for 10 minutes before shifting to wire rack for complete cooling.
Notes
Baking time and temperature as per your oven.
You can make it eggless by using milk.
No need of vanilla extract if you are making eggless.
I just used my little finger to make impressions on the cookies, you can make any patterns.