Yield / Serves
1 Servings
Peanut brittle Banana milkshake is made using jaggery syrup, banana and peanut brittle. Let your children enjoy some healthy milkshakes.
250 ml chilled full fat milk
3 tbsp organic jaggery powder
A generous pinch of cardamom powder
Crushed peanut brittle for topping
Jaggery syrup for topping
Whipped cream / a small scoop of ice cream
Dissolve 3 tbsp of jaggery powder in 8 tbsp of water and strain for impurities.
Bring this liquid to a boil and keep boiling the liquid in low flame until you get a slight one thread consistency thick liquid. Turn off the flame and allow the jaggery syrup to cool.
Powder the peanut brittle in a blender.
Add milk, chopped banana slices, cardamom powder and 2 tbsp of jaggery syrup. Blend well and transfer to a glass.
Decorate with some extra peanut brittle / jaggery syrup / ice cream of your choice and serve.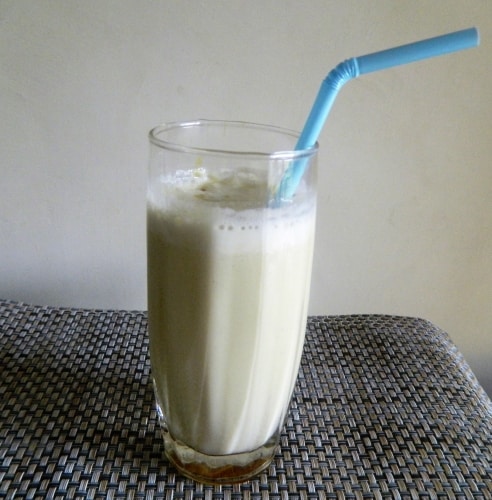 Adjust jaggery syrup according to your taste.
How useful was this post?
Click on a star to rate it!
Rated 4 based on 2 votes
Be the first to rate this post.