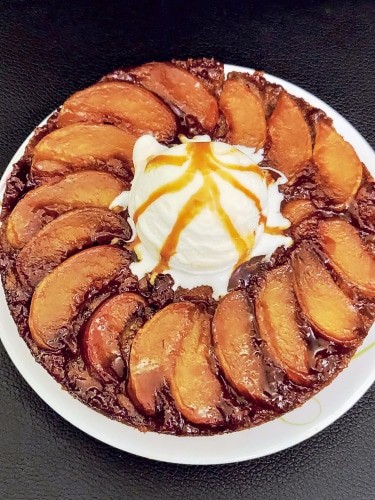 Peach Upside Down Cake... Eggless & Wheat Flour
15 June, 2018
Fathers Day is around the corner and my healthy & beautiful Peach Upside Down Cake is dedicated to my dear father Mr. K.K. Gupta. This cake is for all the loving, caring and doting fathers all over the world. Serve this cake to your father along with his morning tea or if like me you are away from him then serve it along with ice cream after your night's supper. Peach Upside Down Cake is not only beautiful to look at but is healthy to eat. Made with wheat flour, jaggery powder and of course peaches is a real delight to have. eaches behave more or less like apples only. And the way, apple-cinnamon is a deadly combination so is this peach-cinnamon. Cinnamon increases the taste of this cake manifolds, This cake is best enjoyed when you have caramelised peaches with every bite. Because of this reason, I avoided making a tall cake and make a smaller one with less flour.
Ingredients  
3

tbsp

+ 1/2 Cup Jaggery Powder

1

tbsp

Butter

3/4

Cup

100 g Wheat Flour

1/2

teaspoon

Baking Powder

1/4

teaspoon

Baking Soda

Pinch

of Salt

1/2

teaspoon

Cinnamon Powder

3

tablesppon Oil

3

tbsp

Curd

2

Piece

Peaches

1/2

Cup

Milk

at room temperature
Instructions 
Wash peaches and pat dry. Cut them into wedges. If doing this in advance then squeeze little lemon juice over these to prevent discolouration. Take proper slices and collect the tidbits or tiny pieces separately. We will use them later in the cake.

Pour this caramel sauce over the peach slices. Take care to cover all the empty spaces between the peaches. Leave it. You don't have to worry about it. Now make the cake batter.

Start preheating the oven. Preheat it for 10 to 15 minutes at 180 degrees. Check your oven settings.

Take flour, baking powder, baking soda, cinnamon and salt in a bowl. Sift it or mix everything with a whisk.

Take curd, oil and jaggery powder (1/2 cup) in a grinder and blend for 2 to 3 seconds. This is because otherwise, it becomes tough to mix jaggery fully.

Mix everything so that they are coated well in the flour. This is done so that they don't sink to the bottom of the cake and are evenly distributed.

Mix everything with light hands. Adjust the quantity of milk. Keep the batter of ribbon-like consistency.

Pour this batter over the peaches in the cake tin. If you see caramel floating on the sides of the batter then no problem, its okay.

Tap it lightly to release air bubbles, if any.

Take out the cake tin. Wait for 10 to 15 minutes. You need to be very careful as the cake is very soft and also the caramel sauce at the base is extremely hot. Invert it on a wire rack.

And be ready to have a beautiful looking peach upside down cake. Peaches like petals surrounded by caramel sauce look mind-blowing.
Notes
The quantity of milk used may vary a little depending upon the consistency of curd and the flour quality.
Use any oil which you use in the kitchen.
You can make this cake with all-purpose flour also. In that case, everything else will remain the same except the quantity of milk. You will require lesser milk.
Instead of jaggery, you can use brown sugar or refined sugar as well.
The leftover caramel sauce, if any, can be used in your shakes or drizzle over your vanilla ice cream.
After taking out of the oven, do not leave the cake in tin for a longer period. Wait for 10 to 15 minutes then invert it. If done earlier, the cake may crumble. Also, the caramel beneath is too hot so be very careful. If leave it longer then peaches may get stuck to the cake tin only.