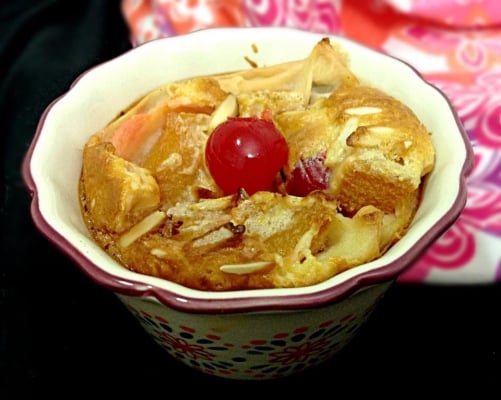 Peach & Cherries Clafoutis
13 February, 2017
Clafoutis is a baked french egg dessert that is simple yet so elegant. This egg dessert can be combined with multitude of variations in fruits and is best served chilled. Clafoutis make an excellent Valentine's Day dessert and any novice can put this lovely delicious dessert together.
Ingredients
1

canned/bottled peach slices

1/4

bowl maraschino cherries

or pitted cherries

1/2

Cup

Plain Flour

1/2

cup

Sugar

1-1/4

cup

milk

3

eggs

1

tsp

vanilla extract/imitation vanilla

1/8

tsp

lemon zest

1/8

tsp

cinnamon powder

Oil/butter to grease pan
Instructions
Preheat oven to 350 Deg F (175 Deg C). Grease a cake pan or any oven proof casserole.

Combine milk, eggs, sugar, vanilla, cinnamon, lemon zest, and flour together in a blender and liquefy to form a homogenous mixture.

Cut peach slices in chunks and arrange them on the bottom of pan. Tuck the cherries in between the peaches. Pour the batter in the pan.

Bake for 10 minutes and then reduce the heat to 325 Deg F (150-160 Deg C) and bake further for 15-20 minutes or till toothpick when pierced comes out clean.