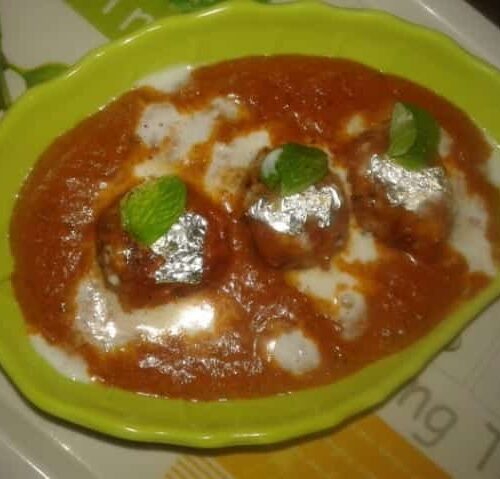 Paneer Gule-E Bahaar
11 January, 2016
Its a twist of gulkand . The combination of Paneer and gulkand have a awesome taste.
Ingredients
Paneer 200 gm

Gulkand 4 tsp

Blanched almond and green chili paste 20 gm

Boiled onion paste 4 tsp

Tomato puree 4 tsp

Ginger garlic paste 1 tsp

Kashmiri red chili powder ½ tsp

Garam masala powder ½ tsp

Coriander powder ½ tsp

Honey 1 tbs

Oil For frying

Desi ghee 3-4 tsp

Bay leaf 1

Sweet spice ½ tsp

Silver leaf For decoration

Cream 4-5 tsp

Refined flour 1 tbsp

Keora water 3-4 drops
Instructions
First of all take paneer on the chopping board and crumble it for 5-7 min. Add refined flour and again mix it. Divide paneer in to 8-9 balls and fill the gulkand in the centre and give round shape. Fry the balls on the slow flame.

We make gravy for this. Take pan add desi ghee. Add bay leaf add onion paste cooked it 2 min add ginger & garlic paste cook it after than add spices, add tomato puree and almond paste, add some water cook it 5-6 min.

Add water and simmer it cooked it for 10-12 min. Add paneer balls and finish with cream and add 2-3 drops of keora water.

Serve hot paneer gule-e- bahaar with naan and garnish with silver leaf and cream.