Recipe Taste
Not Specified
Yield / Serves
6 Servings
mashed paneer baked and topped with edible gum to make innovative recipe with traditional ingredients
For paneer layer- 1cup paneer grated
2 tbsps of condensed milk
6 green cardamoms coarsely grounded
1/2 teaspoon of butter to grease the baking pie dish
For gond- 3 tbsp edible gum
1/2 cup sugar ,water as required
To garnish –chopped nuts,tutti fruiti,glazed cherry and rose petals
-For burfi - Pre heat the oven on 275 degrees.Grease a pie dish and keep aside. In food processor put paneer layer ingredients and mix it well.
Put the mix in baking dish spread evenly and. Cover with the foil.Bake abour 10 minutes in a pre-heated oven at 160degreec.keep aside .
Heat the ghee for deep-frying in a deep non-stick kadhai and deep-fry the gaund till the pieces puffs up.crush them lightly. Drain on an absorbent paper and keep aside.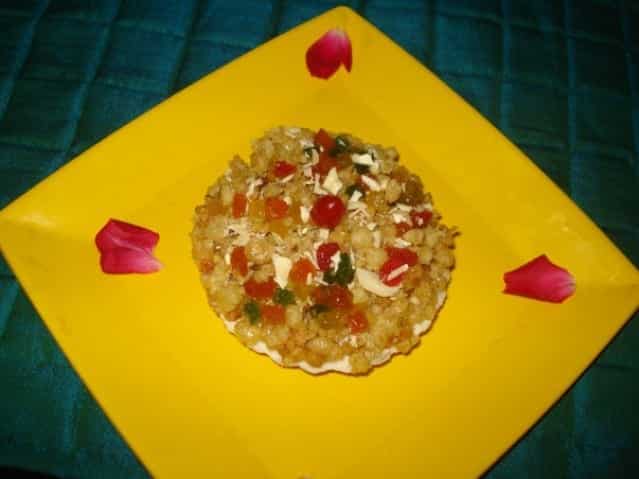 Make thick sugar syrup with sugar and water.Coat fried gaund in syrup and immediately spread over paneer layer.Garnish with chopped nuts,tutti fruiti,glazed cherry and rose petals.
How useful was this post?
Click on a star to rate it!
Rated 2.5 based on 2 votes
Be the first to rate this post.