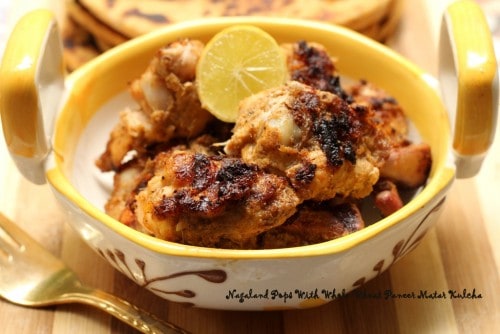 Pan-Roasted Nagaland Pops With Whole Wheat Paneer Matar Kulcha
27 September, 2016
This recipe uses Nagaland Pops marketed by Licious. This delicious range of meats is Licious's new range of readily available marinates meats and seafood. Nagaland Pops are meaty chicken lollipops marinated with authentic North-East Indian flavours. The marinade consists of an assortment of spices including galangal, toasted sesame, green chilli, garlic, and black pepper. I shallow fried this in my iron skillet and it was finger-licking delicious. Serve it up with some Wholewheat Paneer Matar Kulchas and your busy weeknight dinner is sorted! Enjoy!
Ingredients  
Ingredients For Pops - Nagaland Pops by Licious 500 grams

Enough oil for pan roasting

Ingredients For The Kulcha Dough - Whole wheat flour 1.75 cups

Yogurt 1/4 cup

Lukewarm milk 1/2 cup

Oil 1.5 tablespoons

Sugar 1/2 teaspoon

Salt

to taste

Ajwain 1/2 teaspoon

Baking soda 1/2 teaspoon

Warm water

if required

Ingredients For The Paneer Matar Stuffing - Crumbled [by hand] or grated paneer 125 grams

Green peas

cooked and drained [fresh or frozen]75 grams or 1 cup

Fresh coriander leaves

finely chopped 2 tablespoons

Mint leaves

finely chopped [optional]1 tablespoon

Ginger piece 1/2 inch

Garlic 2 cloves

Green chili 1

Ajwain 1/4 teaspoon

Cumin seeds 1/2 teaspoon

Chaat masala 1/2 teaspoon

Black sesame seeds

for sprinkling

Ghee/oil/butter for frying

Salt

to taste
Instructions 
Preparation Of The Wholewheat Kulcha Dough - In a large bowl, combine all the ingredients listed under "Ingredients For The Kulcha Dough" except water. [use the warm water only if necessary]

Using your hands, mix the ingredients, knead to form a soft and smooth dough. [If you find the dough too dry, add warm water and continue to knead till you get a soft and smooth dough.] Cover with a clean damp cloth and keep it aside for 2 hours.

Preparation Of The Paneer Matar Stuffing - Into a chopper, add the cooked green peas, coriander leaves, mint leaves, ginger, garlic, green chilies and cumin seeds. Pulse to form a coarse paste.

Transfer the mixture into a bowl. Add the paneer, chaat masala, ajwain, and salt and combine well.

Preparation Of The Paneer Matar Kulchas - Divide the kulcha dough into equal sized balls. Divide the green peas mixture into equal parts. Take one ball of kulcha dough and roll it out into a small circle. Place the rolled circle in your palm.

Place a little paneer matar mixture in the center of the rolled out kulcha dough. Bring the edges of the circle together and seal the paneer matar mixture.

On a floured surface; gently press the stuffed ball; sprinkle sesame seeds. Apply oil on the surface of the stuffed kulcha and roll out into a more uniform kulcha.

Do not apply too much pressure at one place, because the kulcha may tear and the stuffing could come out. So be careful.

Place the kulcha on a hot tava/ griddle and cook till brown spots appear on one side. Flip to cook the other side. Apply butter/ ghee/ oil and fry the kulcha till you get nice brown spots and the kulcha is cooked well.

Preparation Of Pan-Roasted Nagaland Pops - While preparing the Wholewheat Paneer Matar Kulchas on one side of the stove, heat oil in a iron skillet/ pan.

Once the skillet is hot, arrange the Nagaland Chicken Pops on it and shallow fry till the meat browns well on one side. Flip and cook till the chicken has cooked through and has browned well all over.

Serve these sumptuous Pan-Roasted Nagaland Pops with piping hot Wholewheat Paneer Matar Kulchas. Enjoy!