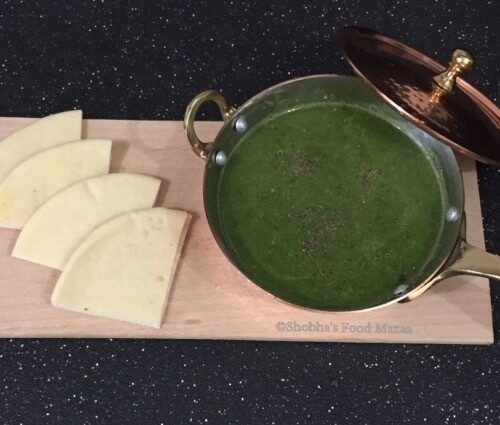 Palak Ka Shorba
17 July, 2018
Palak ka shorba is an Indian version of spinach soup. The flavours of whole spices added while cooking give a lovely taste to it. Spinach is loaded with nutrition which makes this soup the most healthiest one. For variation sometimes people like to add tomatoes or lentils to it. You may also add milk or cream to it.
Ingredients  
Baby spinach ... 2 cups

Onion .... 1 small

Garlic [aste.... 1 tsp

Ginger paste .. 1/2 tsp

Cumin powder .. 1/2 tsp

Black or white pepper .. 2 pinches

Black cardamom .. 1

Bay leaf ............... 1

Cinnamon stick .... 1 small piece

Salt ................ to taste

Butter or oil .... 1 tbsp

Vegetable stock or water .. as needed.

Cream ......... 1 tbsp

optional
Instructions 
In a pan melt the butter (or add oil). Tip in the back cardamom, cinnamon and bay leaf.

When they give out an aroma add the ginger garlic followed by diced onion.Saute until translucent.

Add the spinach and salt. Stir fry for a minute and add cumin powder 2 cups of vegetable stock or water.

Simmer to cook for about 8-10 minutes. Discard the whole spices and blend the shorba.

. Adjust the consistency to your liking. You may add cream at this stage if you like. Sprinkle black or white pepper powder before serving.