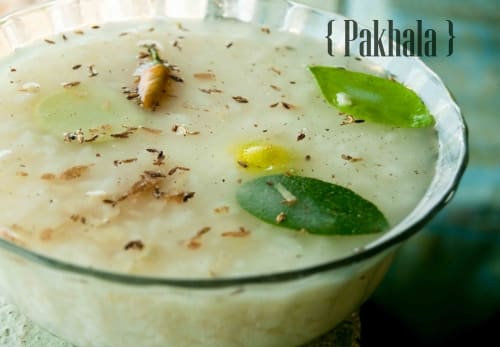 "Pakhala" For many of you this word must be out of your food dictionary. This is an authentic preparation from Odisha to get rid from the Scorching summer heat. A soul food for Odias which is found almost in every house on a Summer Day. I have been asked by many people about this. You can find this dish at Puri Jagannath temple though it's not a part of offerings to Lord Jagannath. How it's prepared ? It's prepared by fermenting cooked rice overnight. Usually a big mud pot is used for this which enhance the aromatic smell of this dish. The side dishes which are eaten with Pakahal are not so particular. You can have Fish fry, Dalma, sweet dal, "badi-chura"(a typical authentic preparation), alo-bharta, saga-bhaja, Chicken kosha, Shallots, ripe mangoes or anything of your own choice. Many people add curd ,chopped cucumber, tomato ,onion to it. And they make the consistency of pakhala a little thick and enjoy without any side dish. I am here sharing the recipe that you get in Puri temple.And if you visit temple in summer days you will get that spicy water of pakhala to quench your thirst. Must try !!
Ingredients  
6

cup

Cooked Rice

1

tbsp

Roasted Cumin seed

1

tbsp

Roasted fennel seed

5

Lime Leaf

4

Green Chilis

1

cup

Curd

1

Lemon

1

inch

Ginger or Mango Ginger

salt per taste

water 10 cup
Instructions 
Put cooked rice in a bowl. Add water, lime leaves, crushed ginger and keep it for minimum 6 hour.

While serving ,add curd, crushed green chilis, lemon slices to it.

Add crushed cumin and fennel seed to it.

You can add all these just before an hour of serving also.
Notes
There is a special way to serve this dish.
Take 4 bowl and put the rice equally in each bowl.
Put equally the added water in each bowl.
Add salt per taste.
The best way to have it is using your finger not spoon.
So in one bite you drain a handful of rice from the bowl using your fingers and have it.
Enjoy Pakhala 🙂