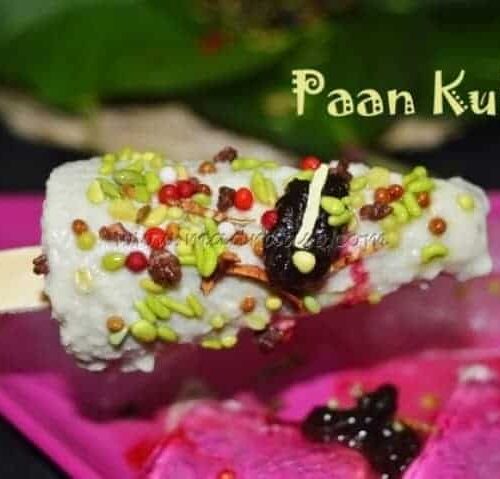 Paan Kulfi
29 April, 2016
Kulfi was my long desire to try out from my hands. This was my attempt with kulfi, and the kufli came out well with perfect texture, flavor and color. My kids like kulfi a lot, and so I desired to prepare kulfi at home. As we include nuts to the kulfi, it is packed with health benefits. After having a heavy meal, most of them use to have pan, so I thought of preparing pan kulfi – loaded with more health benefits from pan. I have used betel leaves, which has countless health benefits and gulkand which is one among the natural coolant and perfect for this summers. Let me share the recipe…
Ingredients
Full fat milk – 3 cups

Corn flour – ¾ tbsp.

Betel leaves – 2 nos

Gulkand – 1 ¼ tbsp

Sugar – 4 tbsp

Cashew nuts – 5 nos

Pistachios – 6 nos

Almond/Badam – 6 nos

Supari – 1 ½ tsp

for garnish
Instructions
Boil the full fat milk, once boiled, add in the sugar, mix until the sugar is dissolved.

Reserve ¼ cup of milk in a bowl. Keep it aside.

Take cornflour in a bowl, add in 3 tbsp of water and mix it well or until it dissolves well.

Pour in the corn flour to the boiled milk and keep in medium flame, start stirring the milk.

Keep in low flame, keep on stirring the milk, until it thickens. Else it lumps would be formed.

Also scrap the sides of the vessel, and drop the scraps to the milk and keep in low flame.

Remove the milk, when it comes to ¾ th portion thick consistency or semi thick consistency.

Rinse the betel leaf in water, pinch out the stalk and roughly tear them.

Take the betel leaves, cashew nuts, pistachios, almonds/badam, gulkand and ¼ cup of milk, blend them well together to a fine paste.

Check whether the thicken milk, attains the room temperature. If so pour in the grounded pan paste to the thicken milk. Stir well, no lumps should be formed.

Now pour the mixture to the kulfi mould and freeze it for 6 to 7 hrs or until it freezes.

Once done, remove the kulfi moulds from the freezer and show the bottom in the running water or keep them in warm water for 10 to 15 mins.

Now gently remove the kulfi by pulling the stick from the mould.

Garnish with flavored and colored supari.

Serve chilled.