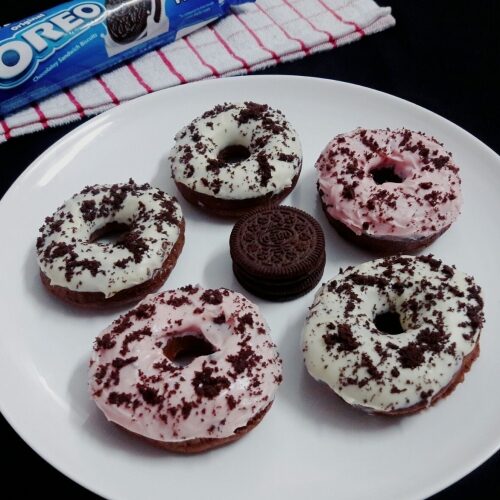 Oreo Donuts Kids
19 March, 2017
Super moist, scrumptions and extremely chocolaty oreo donuts. Oreos in the batter and crushed oreos on top of white chocolate it is oreos everywhere. No matter how many delicious donuts you have eaten but you can't resist these. Make it for your kids party or on weekends I am sure kids gonna love them!!
Ingredients  
2.5

cup

flour + for dusting

1

cup

powdered sugar

8-10

oreo cookies

50

grams

of butter

1/2

tsp

salt

1

cup

milk

1

tsp

dry yeast

Oil for frying

For the glaze: 1 cup white chocolate

Cream of pink oreo cookies

Crushed oreo cookies
Instructions 
Crush the oreo cookies nicely. Heat milk and sugar in a pan mix well till the sugar is dissolved.

In a bowl take all the dry ingredients flour, sugar, crushed oreo cookies and salt. Mix it well.

In a small bowl take yeast and add 1/4 cup of milk sugar mixture to it. Let it rest for 5 mins. Add butter in the leftover milk and mix it well.

In another bowl take all the wet ingredients milk butter mixture and whisk till smooth.

Now add all the wet ingredients to the flour mixture and mix it nicely and knead a dough. Cover it with cling wrap and let it rest for one hour thirty minutes till its double in size.

After 1.5 hours you will see the dough is double in size.

Dust the dough with flour and roll the dough in 1 inch of thickness.

Now use a donut or a cookie cutter to cut it in exact shape of donut.

Place the donuts in a tray. Cover the tray with plastic wrap and keep it aside for 30 minutes or till double.

Heat oil in a pan and fry the donuts till golden brown from both the sides.

For the glaze: Melt white chocolate in double boiler or in microwave. Divide the melted white chocolate in two bowls. Add the cream of pink oreos in one bowl and mix it well.

Dip the donuts in melted white chocolate or pink creamed white chocolate and top it with crushed oreos and Serve!!
Notes
You can dip the donuts in melted dark chocolate or with coloured sprinkles also.