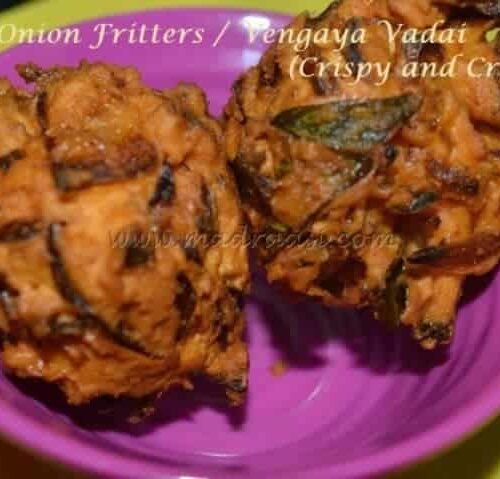 Onion Fritters / Vengaya Vadai
12 July, 2015
Onion Fritters / Vengaya Vadai is one among common snack in Tamil Nadu, most common among street foods. You could get this onions fritters in small shops all over the streets and also few vendors use to sell them in a basket carrying on their head or cycle. These are found mostly in the mornings and evenings. People use to have this fritters/vadai with Palaya Choru. Palaya Choru – Palaya means old and Choru means rice, it's nothing but the yesterday's leftover steamed rice would be soaked in water and little salt for overnight and then next day will be consumed for breakfast. Let me share about the goodness of palaya choru in the future posts. This onion fritters /vadai can be prepared in minutes, also it's very simple because of no grinding and no soaking. Let us move on to the recipe…
Ingredients
Besan / Gram Flour – 1 ½ cup

Rice flour – 1 tsbp

Chili powder – ½ tsp

Onions – 2 ½ cups

Cooking soda – ¼ tsp

Asafoetida – a pinch

Curry leaves – two sprigs

Oil for deep frying

Salt to taste
Instructions
Take the besan / gram flour in a mixing bowl and break the lumps with hands.

Add in the chili powder, rice flour, asafoetida, curry leaves, cooking soda, asafetida and mix well.

Peel and thinly slice the onions (lengthwise).

Add in the sliced onions to the batter and mix well with your fingers.

Pour in a cup of water little by little and knead it with your fingers. Be sure that the batter should not be runny.

Heat oil in a kadai, the oil should not be hottest and keep in medium flame.

Scoop the batter with your fingers and drop gently to the oil one by one.

Swap the sides, once in a while and until it becomes golden brown.

Drain the oil and remove the fritters to a plate.

Serve hot.

I have accompanied this with Samai Pongal / Little Millet Pongal, sambhar and chutney.
Notes
When you need the fritter to be more fluffy and soft, mix with 1 tbsp of excess water to the batter and prepare fritters. If you need a crunchy and crispy one, pour in little quantity of water, for a thick batter and prepare fritters.