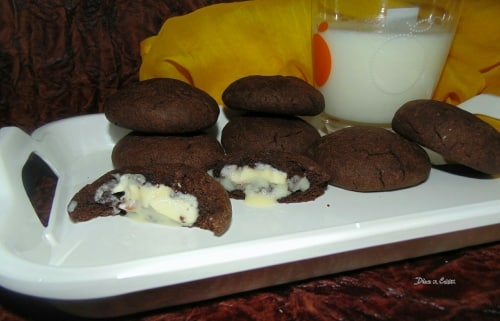 Nutty White Lava Cookies
Its delicious chocolatey crunchy munchy healthy cookies. Its made with goodness of ragi and whole wheat flour. Each bite has a unique nutty and white chocolate lava taste. Its tastes heavenly when dunk with a cup of milk.
Ingredients
Ragi- 1/2 cup

Wheat flour-1/2 cup

Powdered Sugar-1/2 cup

Butter-1/4 cup+ 2 tbsp

Vanilla essence-1/4 tsp

Cocoa powder - 3 tbsp

Milk- 2 tbsp

White chocolate gratings - 1/4 cup

Dry fruits chopped- 2 tbsp

Baking soda-1/4 tsp

optional

Salt-pinch
Instructions
Fry ragi flour for few seconds or until lightly warm. Cool this. Sieve together ragi, whole wheat flour, salt and baking soda.

Cream together butter and powdered sugar. Add vanilla essence and mix well. Now add the flour mixture and mix to form a dough without kneading with milk.

Refrigerate the dough for 15 mins. Divide the dough into equal parts. Melt white chocolate and 2 tbsp butter on double boiler, keep this aside.

Preheat the oven at 180°C for 10 mins. Make the dough into cup shape, add the dry fruits and white chocolate ganache, close and form the cookies.

Keep the cookies on parchment paper lined baking tray. Bake at 170°C for 15 mins. Cool on wire and serve yummy nutty white lava cookies.
Notes
Frying the ragi flour removes the raw smell of flour.
Cocoa powder can also be replaced with dark chocolate.
Baking soda is optional. So it can be omitted.