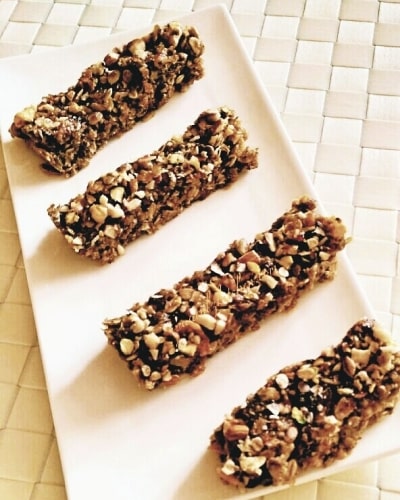 No Bake Muesli Bars With Honey
When that mid morning or afternoon hunger sets in, make sure you're prepared with the right emergency foods to help keep you on the right track. Like most muesli bars, I've made mine with rolled oats. The soluble fiber can help lower blood cholesterol and because they are low GI, they can provide lasting energy. With lots of nuts and some honey make these healthy chewy muesli bars. I love these healthy, chewy, muesli bars especially as they require no baking! YUP! NO BAKING! Just give the ingredients a good mix and leave them in the fridge to set. These can very easily be made in ten minutes before you go to bed at night and come morning, your family has snacks ready to go for the day. Did I tell you what is awesome about these muesli bars? I will tell you. You can basically use any combination of ingredients you want! This recipe consists of oats, nuts/seeds, and dried fruit, bound together with unsalted butter and sweetened with honey. These are no-bake muesli bars, which makes them really easy! The method is similar to making crispy treats- just heat up some liquid ingredients, add the dry, and press into a baking dish and allow to cool. Boom. Done. They stick together! They are super duper healthy. No refined sugar, good-for-you and lots of fiber and good fats from the oats, nuts, and seeds. It will keep you going for a long time. Did I mention they taste amazing? Especially since you can add whatever fruits and flavors you want, catering it to your own tastes.
Ingredients
1

cup

- rolled oats

1

cup

- muesli

sugar free

1/2

cup

- cornflex

1/4

cup

crushed Oreo

optional

1/3

cup

- pepita seeds

1/3

cup

- whole almonds

crushed

1/3

cup

- walnut

crushed

1/3

cup

- pistachio

crushed

1/3

cup

- raisins

1/4

cup

- honey

Runny

2

tbsp

- unsalted butter

1/2

teaspoon

- cinnamon powder
Instructions
Grease and line the tray with baking paper.

Dry roast oats and muesli and keep aside.

Roast all the nuts (walnut, pistachio, almonds) and keep aside.

In a saucepan, over a medium heat, melt the honey and butter until well incorporated and runny.

Add cinnamon powder and mix well. To this wet mixture, add all nuts give a good mix.(keep a tablespoon of nuts aside).

Add rolled oats, muesli, corn flakes, crushed oreo, pepita seeds and stir until combined.

Remove from the gas and transfer it to the lined tray and spread evenly.

Garnish with leftover nuts. Press down heavily onto the mixture so it is well squashed.

Place the tin into the fridge and refrigerate for about 1 hour until well set.

Once set, use the scrapper to carefully lift the muesli out. Slice the muesli into bars with a sharp knife and wrap individually in plastic wrap.

Keep the muesli bars in the fridge.
Notes
Store in a foil-lined airtight container for up to 7 days.
If the mixture looks too dry after mixing, especially if you have added more dry ingredients, increase the quantity of wet ingredients to compensate, otherwise the bars will collapse on cutting.
Can use flex seeds, sunflower seeds, chia seeds etc.
To make these muesli bars gluten-free, use two cups of crushed cornflakes and two cups of rice bubbles.
When spooning into prepared pans, I wet my fingers with a bit of cold water and press the top to get a smooth finish.