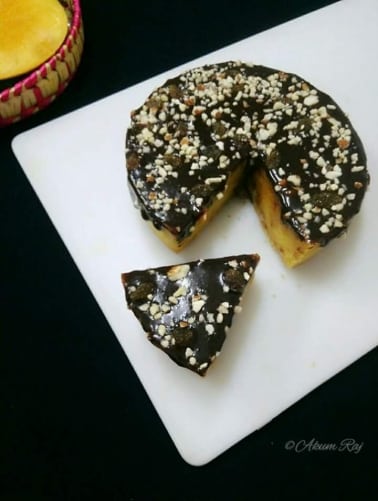 No Bake Mango Semolina Cake
12 March, 2018
No bake mango cake made using semolina (sooji), digestive biscuits, chocolate and nuts. This recipe is inspired by my no bake mango cheese cake. A unique and delicious cake to please your near and dear ones.
Ingredients  
Mango 1 large

Suagr ¼ cup

Semolina 1 cup

Biscuits 8-10 biscuits

I used digestive biscuits

Butter 100 grams divided

Milk ½ cup

Chocolate 50 grams

Nuts and raisin for garnish 3-4 tbsps

I have used almond and Cashewnuts, you can use any nuts and dry fruits of your choice
Instructions 
Take the biscuits and half of the butter in a blender and blend it finely.

Take a spring form cake pan. Add the biscuit crumb to the pan and press it slightly and make a even base. Put the tin in the freezer for 10-15 minutes.

Peel the mango and chopped them. Add chopped mango and sugar and blend them into fine puree.

In a non stick pan roast the semolina for about 5 minutes stirring continuously to prevent for burning. Add the mango puree, remaining butter and warm milk and cook for about 10-15 minutes or till the semolina becomes thick.

Take out the base from the freezer and pour the cooked semolina over it and level it with the help of a stapula.

Melt the chocolate and pour it over the cake, garnish with chopped nuts and raisins and freeze it for atleast 30-40 mins or till the chocolate has set completely.

Remove from freezer, gently unmould the cake pan, cut and serve.