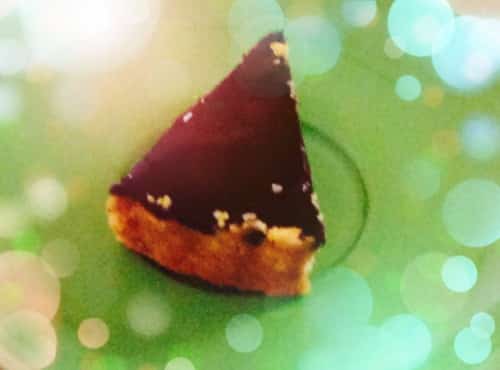 No-Bake Chocolate Tart
27 September, 2016
Someone said – "If there is no chocolate in Heaven, I am not going there". Yes, chocolate makes everything better, well almost everything… an easy dessert recipe to win hearts of everyone. This recipe is available in my personal blog as well https://heartonplate.wordpress.com/2016/06/27/no-bake-chocolate-tart/
Ingredients  
Digestive Biscuits - 1 pkt

Dark Chocolate - 125 grams

Fresh Cream - 100ml

Unsalted Butter - 75 gram
Instructions 
Crush the biscuits either by hand or with the help of a grinder into crumbs. Make sure there are no big pieces. Make a small well in the center and add the melted butter and mix well into a loose sticky crumbly like consistency.

Put these crumbs into the tart tin and press hard on the bottom as well as sides making sure there are no cracks and all the crumbs are tightly pressed to the tin. Refrigerate the base for 15-20 mins.

Meanwhile, prepare the chocolate filling. Chop the chocolate bar into small pieces and keep it in a heat proof glass bowl. Warm the fresh cream in a sauce pan until it starts to show small bubbles. Do not boil the cream.

Pour the cream into the glass bowl with chocolate and keep aside for 5 mins. After 5 mins, using a wooden spoon slowly fold the chocolate and cream mixture until all chocolate is melted and a smooth and thick chocolate sauce is ready.

Take out the tart crust from refrigerator and fill it with the melted chocolate till rim and refrigerate, ideally, for 4-6 hrs. until the chocolate has become firm.