Yield / Serves
4 Servings
It's a Nawabi delicacy. Rich in flavours and ingredients.
gram lentil ( chana dal ) - 150 grms
ginger, garlic paste - 1 1/2 tsp
crispy fried onions paste - 50 grms
black peppercorn - 5 to 6
black raisin 10 to 12 ( soaked in warm water )
finely chopped coriander leaves
rice bran oil ( for frying )
In a pressure cooker place mutton mince, chana dal, ginger garlic paste, cinnamon, cumin, cardamom, black peppercorn, fennel seeds and salt.
Cover the lid and put on pressure for 20 mnts. until it's done.
Make a paste of almond, cashew nut and poppy seeds.
Once the mince is done, take it out from the pressure and let it rest for 10 mnts.
Now grind it in a mixture until its soft ( do not add any water )
In a large vessel take out the mince and add almond, cashew nut, poppy seed paste, black soaked raisins, lemon juice, chopped coriander and onion paste and mix it nicely.
In a deep frying pan heat oil on high flame.
Now make small round shape mutton goli and deep fry until its golden brown in colour.
Serve hot with green chutney and onion rings.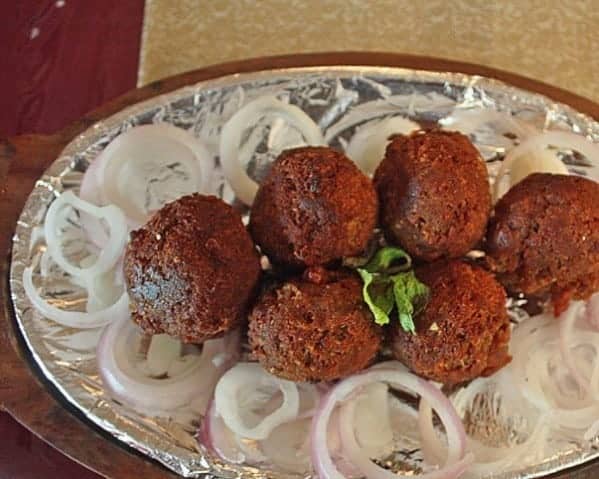 How useful was this post?
Click on a star to rate it!
Rated 4.5 based on 6 votes
Be the first to rate this post.