Indian Bread – Double Dekkar Pizza Paratha
Yield / Serves
2 Servings
It is very delicious n healthy recipe..
It is a new style pizza so kids like it very much..
For filling ingredients..boiled corns 1big sp
Spring onion chopped 1big sp
Chopped bell pepper red n yellow..1big sp
Cauliflower chopped 1big sp
For making pizza ingredients..
Grated mozzerella cheese 1katori
Chili flaks n oregano 1tsp
Method of making fried rice Take a wok.. Add butter in it..
Then add vegetables n corn in it..n saute it.. Then add rice in it..n mix it well
Then add all sauce in it.. Salt n red chili powder in it.. Mix it well Cook it for 2mins Its done..
Method for dough.. Take a bowl.. Add wheat flour ,salt n water. Mix it well. N make fine dough..
Then take a small ball of dough.. Roll it n make chapati.. Make 3 chapaties..
On one chapatti Spread miyonee on it.. Then put cheese slice on it.. Spread fried rice on.. Then spread grated cheese on it.. Spread tomato sauce on another chapatti.. N cover it..
Cover it..n make stuff paratha..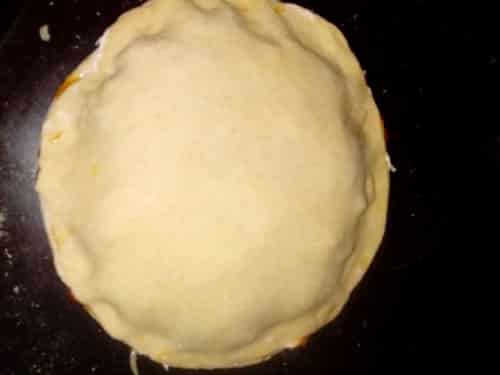 Then put it on tawa.. N cook both side of paratha.. Till it become crispy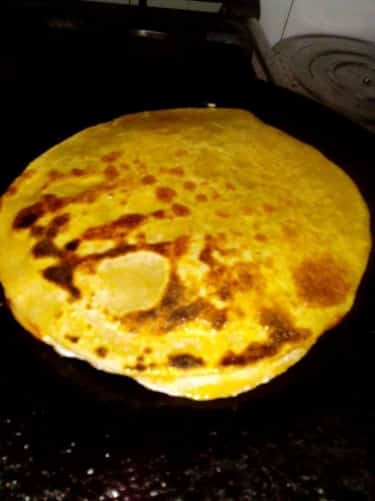 Then spread miyonee n tomato sauce on it.. Put cheese slice on it.. Spread fried rice on it.. Spread grated cheese on it..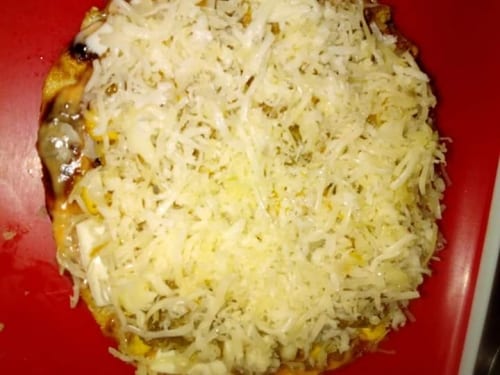 Then preheat oven for 10mins.. Put it into oven n bake it for 5mins.. Sprinkle chili flaks n oregano on it..
How useful was this post?
Click on a star to rate it!
Rated 4.5 based on 2 votes
Be the first to rate this post.