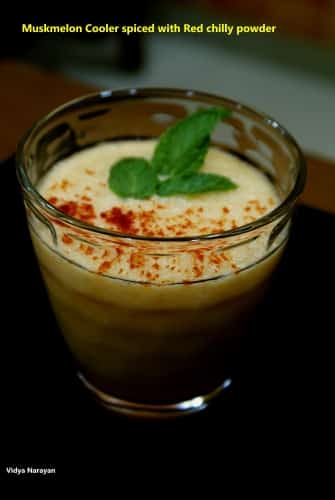 Muskmelon Cooler (Spiced With Red Chilli Powder)
Muskmelon cooler spiced with red chilly powder Muskmelons are known for their high water content which makes it an ideal fruit to consume during summers. Also beneficial for people struggling to lose weight (like me) as Muskmelons contain very few calories. The juicy fruit is perfect for diabetics too as well as pregnant woman as it contains a very high amount of folate. Helps reduce constipation due to its fibre content too. Made this muskmelon cooler one fine evening when humidity was killing us here in Mumbai. Dinner was sorted with some salad on the side. Folks, the red chilly powder gives it an amazing kick so please don't skip that part & trust me u wont regret!!
Ingredients
Muskmelon – 1 medium sized

Peeled, seeds removed & chopped in big chunks

Lime juice of one lime

Salt – ¼ tsp

u can use black salt as well

Sugar – 2 tsps

1 tsp per person can be optional for diabetics

Red chilly powder – one pinch per glass

Ice cubes / crushed ice as required

Mint leaves – Optional
Instructions
In a blender, take chopped chunks of muskmelon, add salt, sugar, lime juice.

Add some ice (part of it can be used while serving) & blend until smooth

While serving, take some crushed ice in a glass, add a pinch of red chilly powder & pour the cooler.

Stir well, add some more ice or lemon wedges or mint leaves for garnish.