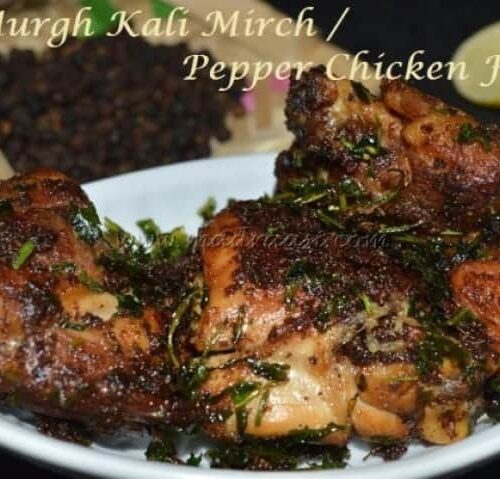 Murgh Kali Mirch / Pepper Chicken
11 May, 2015
Recently we had this in our friend's house during our coonoor trip, everyone in our house loved it. I was asking for the recipe, and poorni told the ingredients was only chicken and pepper. Again I am across one of the recipe which was the same as she told me, so planned to try this recipe today in a refreshed mood after a week. he dish was good, chicken was juicy and the house was filled with pepper and butter aroma. I made in small quantity and it was vanished in minutes. A finger licking dish and everyone must try.
Ingredients
Butter – 6 tbsp

Chicken Drumstick or thigh pieces – 6 nos

Grated ginger – 2 tsp

Lemon juice – 1 tbsp

Black pepper / Peppercorns – 4 tsp

must here

Coriander leaves – ½ bunch

Salt – to taste
Instructions
Wash and pat dry the chicken pieces.

Peel and grate ginger, wash and finely chop the coriander leaves along with the stalks.

Ground the Black pepper/peppercorns to fine powder.

Heat butter on medium flame, add grated ginger. Be careful that butter should not be burnt.

Add chicken pieces, pepper powder and salt. Fry on high flame for 5 minutes, turn the sides and continue frying till the chicken changes colour.

Lower the heat and cover the chicken with the lid and cook for 15 mins, in between turn the sides of the chicken until tender.

Remove the lid, increase the heat and add lemon juice (discard the seeds). Cook until it's dry and crisp.

Sprinkle the ½ tsp of coarsely blended pepper corns and fresh coriander leaves. Serve hot. Goes well as starter or even side dish.