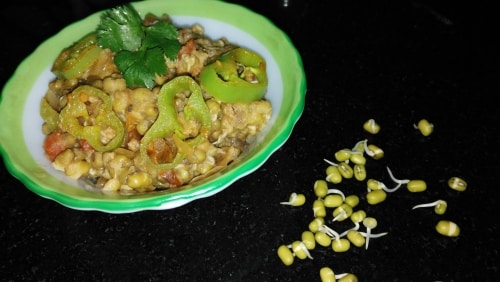 Mung Sprouts
7 December, 2017
Mung beans produce an edible sprouts that's crisp and nutty tasting. These sprouts are substantial enough to stand up to stir frying but they are often used in raw salad and on sandwiches. Mung beans sprouts can carry bacteria so raw sprouts should be avoided by children, pregnant women, the elderly and any one with a weekend immune system. You will loose of the nutrients but you will kill any potential bacteria by cooking the sprouts.
Ingredients
Mung sprouts 250 grams

Chopped onion 1/2 cup

Chopped tomato 1/2 cup

Chopped ginger 1 tbsp

Chopped big green chilli 1/2 cup

Olive oil 1 tbsp

Crushed black pepper 1 tsp

Black salt 1/2 tsp

Regular salt 1/2 tsp

Lemon juice 1 tsp

Chopped coriander leaves
Instructions
Wash and soak the mung dal over night or 6 hours. Then strain the water and cover with a piece of cotton cloth. After 10- 12 hours start producing sprouts 1/2 inch long. Boil with 2 Whistler.

Take a frying pan, preheat add oil, chopped onion, chopped ginger. Saute until the onion translucent. Then add the sprouts and chopped big green chilli. Again saute for a few minutes.
Notes
At the time of boiling you should take care. It will soft but not over cook.