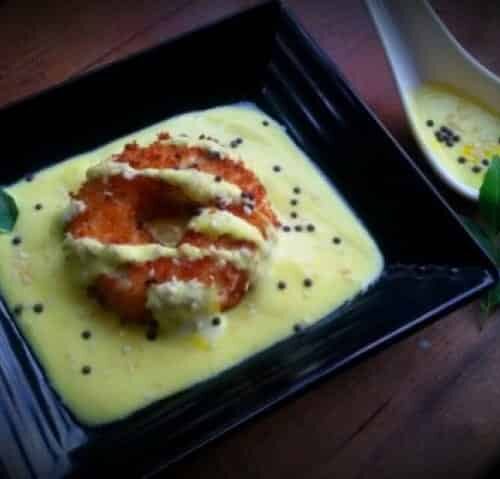 Multigrain Paneer Dahi Vada
2 April, 2016
It is my version of superhealthy protein packed multigrain paneer dahi vada. Kids do call it paneer doughnut as well.
Ingredients
1

cup

grated paneer

cottage cheese

2-3

tsp

beaten curd

1

tsp

powdered brown sugar

For batter :

2

tsp

wheat flour / maida

little water

1

multi grain bread slice for crust

olive oil for frying

For yoghurt

1

cup

beaten curd

2

tsp

powdered brown sugar

increase or decrease as per taste

1

tsp

mustard seeds

Few curry leaves

1

tsp

sesame seeds

few strands of saffron or pinch of yellow colour
Instructions
In a bowl mix grated paneer, 1 tsp sugar and 2-3 tsp curd. Do not add extra curd otherwise mixture will not retain its shape.

Keep in fridge for half an hour so that they maintain their shape and get firm.

Prepare a batter of wheat flour/ maida with little water of flowing consistency. Keep aside.

Now take out your vadas from fridge , dip them gently in batter and coat with bread crumbs. You can again allow these to rest in fridge for 15 minutes.

Prepare the curd meanwhile. In a bowl toss together curd, sugar, dry roasted mustard seeds, few curry leaves and saffron or yellow colour.

To assemble : In a serving pplatterplace a layer of prepared curd, now put vada in centre.Drizzle more curd over it. Sprinkle sesame seeds, mustard seeds and garnish with curry leaf.
Notes
You can use normal sugar also instead of brown sugar.
Instead of frying these can be baked as well and enjoyed.
You can add nuts to the curd to enhance the flavour.
And if saffron is not available add a pinch of yellow colour to make it more appealing.