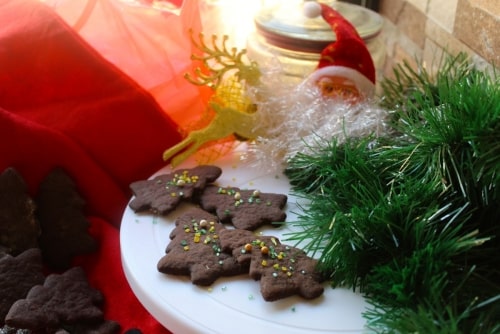 Moravian Spice Cookies
22 December, 2016
Moravia ia a beautiful and historic country in the Czech Republic!A speciality of the place are Moravian Cookies or Moravian Spice Crisps as they are called.A special type of fluted cookie cutter (like a pie pan edge) is used for these delicious cookies but as I did not have them I gave them the shape of a Christmas Tree as I was making them for the festival!The cookie is wafer thin,crisp and perfectly brown with a delicious aroma and taste.Mine may not have come as thin but was crisp and utterly delicious that the better half who is a connoisseur of good things gobbled up 4 of them with his tea!They are amazing and a must try for everyone!
Ingredients
194

gms plain flour/all purpose flour/maida

1 1/4

tsp

baking soda

3/4

tsp

ground Cinnamon

dalchini

1

tsp

ground Ginger

sonth

1/2

tsp

ground Cloves

laung

1/4

cup

shortening/vanaspati/ghee

1/3

cup

brown sugar

1/2

cup

Molasses/thick Jaggery syrup
Instructions
Preheat oven to 160°C.Sift the dry ingredients - flour,baking soda,cinnamon,ginger and clove powders together in a large bowl.

In another bowl beat the shortening/vanaspati/ghee and sugar till creamy.Add Molasses and beat again till well mixed.

Now add the dry ingredients and either mix with hand or in a food processor or stand mixer till everything comes together and you have a soft dough.

Wrap the dough in clingfilm and refrigerate for 30 - 45 minutes.

Flour your kitchen countertop and roll out the dough as thin as you can manage.They say "Your fingers should be visible under the dough".

In case if this does not happen do not worry.Roll as thin as possible and cut out cookies with the cutter you want.If you have a fluted cutter - wonderful!

Cut out cookies and transfer to cookie sheets each being 1/2 an inch apart!Bake for 10 - 12 minutes till golden and a little dark on the top and take out.Cool on the sheets for 5 minutes then transfer to a wire rack.

Leave the cookies to cool completely on the sheets and store them in airtight containers preferably glass jars.

You can make a thick sugar syrup in very little quantity and brush over the top of the cookies on which you can sprinkle decorations of your choice - coloured sugar crystals,edible gold and silver decoration balls or even Royal Icing!
Notes
NOTE : The authentic recipe uses either Lard which is animal fat or shortening which is solidified vegetable oil like the Indian vanaspati ghee namely Dalda to name a brand.I used pure ghee and was so very happy with the results! I measured ingredients by the gram and am mentioning the weight.Measure everything accurately for the best tasting cookies!