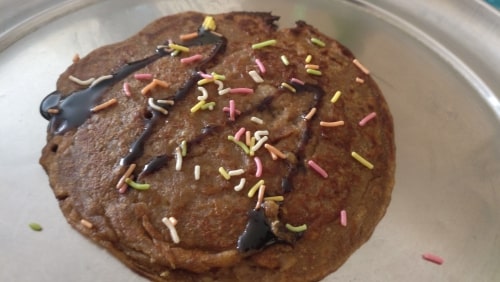 Mix Millet Pancake
19 May, 2017
Millet are those forgotten grains which are making a big-time comeback. And I am really excited to use them and try new recipes because all I know that millet are very healthy and my granny used to make Bajre ki Roti, so definitely its healthy and I am glad that I am giving the same goodness to my daughter. Recently I got Mixed Millet Flour from one of the organic companies Healthy Buddha, started by my Friend and I thought to give it a try by simply making Pancakes. As always my recipe has to be healthy so I made this one too as healthy as I can. Real Happiness comes when my daughter finishes it completely.
Ingredients
Mix Millet Flour 1 Tablespoon

Wheat Flour 1 Tablespoon

Milk 1/2 Cup

Jaggary 1 tablespoon

Banana 1
Instructions
Take Millet Flour ( it contains Ragi (Finger Millet) Bajra, (Pearl Millet) Thenai (Foxtail), Semai (Little Millet), Bengal Gram, Groundnut, Cardamom) and wheat flour in same quantity.

Add milk slowly so that it forms a batter . It should not be too watery otherwise making the Pancake would be difficult.

Add Jaggary and whisk it well. I whisked it with normal hand whisker as I am lazy to take out hand blender.

Pour it on the Tawa and let it cook for minimum 4-5 minutes on a low flame as it takes time to cook. Turn and cook the other side.