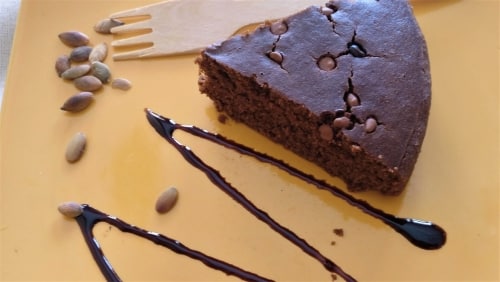 Mix Millet Cake
6 June, 2017
This is the simple chocolate cake recipe but cakes at my house cannot have all-purpose flour, so I keep experimenting to replace the unhealthy ingredients. In this mixed millet cake recipe I have replaced all purpose flour with whole wheat and mixed millet flour and castor sugar with Jaggery to make it healthier. I always call myself as a Cheat-Mommy because even if I have to give things to my daughter which are usually considered unhealthy I try to make them as better. Sometimes these experiments fail and sometimes they are successful but it's always satisfying to see when my daughter eats the healthier version of any dish. So here is my twisted and tweaked version of chocolate cake. I will be honest, This cake cracked and not one of those moist chocolate cakes but it is a great evening teatime snack. And finally I learned the secret of how can I save my cake from cracking.
Ingredients
Whole Wheat Flour - 1 Cup

Mixed Millet Flour -1/4 Cup

Jaggary

Sieved - 3/4 Cup

Baking Soda - 1/2 Teaspoon

Rice Barn Oil - 1/4 Cup

Full Cream Milk - 1/2 Cup

Water -1/4 Cup

Vanilla Essence - 1 Teaspoon

Free Range Egg -1

Cocoa Powder - 2 Tablespoon

Salt -1/4 Teaspoon
Instructions
Preheat the oven at 180 degree C. Combine the dry ingredients in a large bowl This includes wheat flour, mix millet flour and jaggary. Sieve all of them especially the jaggary as it has small granules.

Combine in cocoa powder and baking soda and salt and keep it aside.

In a medium bowl, beat the eggs till the yolk blends well with white, Add milk slowly and continue to whisk. Pour in oil and stir for few times.

Add in the dry ingredients into the wet ingredients mix. Fold it few times and then add water to it. Add water slowly to check the right consistency, it should not be watery.

Adding 1/4 cup of water gave me a right consistency. Incase, its bit dry you can add few more tablespoons of water.

Grease and flour the circular aluminium baking dish with the oil and pour and spoon the batter. Sprinkle and throw some chocolate chips on top.

Set the oven for 20 minutes and let it bake. After 20 minutes check for the done-ness by pricking in the tooth pick. If it sticks, bake for another 5 minutes.
Notes
My cake cracked and here is the tip which I learned after this experiment –
1. Tie a wet and moist kitchen cloth towel so that the cake does not puff up in the centre and finally cracks.
2. I kept it for a long time in the oven and so it cracked.
If you are looking for more millet recipes – Check out my Kodu-millet Pilaf or Mix Millet Pancake.