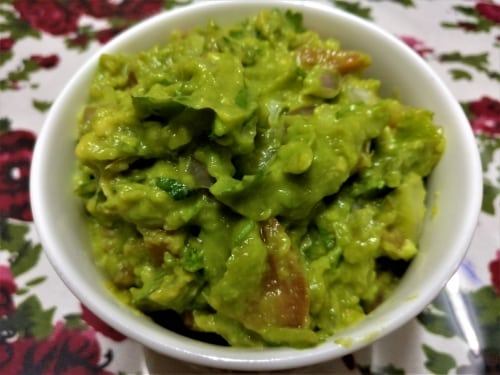 Guacamole Recipe
Love guacamole.. try this recipe with cilantro rice or rice crackers and say your 4 clock hunger bye bye.
Ingredients
Riped Avocado - 1

250 gram

Onion - 1

100 gram

Tomato - 1

100 gram

Cilantro - 50 gram

Lime juice - 2 tablespoon
Instructions
Picking the riped avocado can be a challenge at times. So the Simple rule is when it's easily pressed and starts becoming black then it's ready.

Cut into two halves and remove the skin. Scoop out the pulp and mash it with the fork as if processed in food processor or blender, it would loose its chunkiness.

Fine chop Onions. Deseed Tomatoes and dice them as seeds of tomato would leave water and spoil the guacamole.

Finely chop Cilantro/Coriander leaves and add to it. give few slow stir just to mix all the ingredients. Add salt and lime juice in the end just before serving.