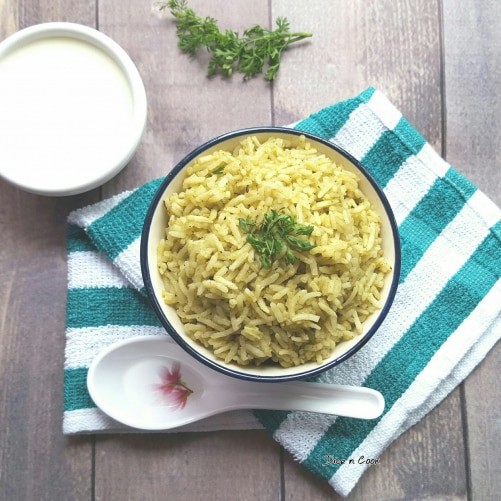 Mexican Green Rice
15 September, 2017
Mexican green rice is a typical dish which originated from Mexico. It is locally called as Arroz Verde Mexicano and prepared using Morelos rice which is typically grown in Mexico of highest quality. The original recipe asks for poblano pepper (Capsicum annuum) which is originally grown in Mexico with very mild flavor. There are many versions of this rice preparation. The recipe is very simple with few ingredients adding mild flavors of roasted rice, capsicum, onion, garlic and herbed coriander. I have tried to add an extra flavor by grilling the veggies and then churning it. Apart from adding flavor and light green colour to the rice variety, capsicum or bell pepper are loaded with vitamins like A, C, K. Bell peppers have anti-inflammatory and anti-oxidant properties. This is gluten free and vegan free recipe.
Ingredients
Basamati rice 2 cups

Green capsicum 2

Garlic cloves 4 to 6

Onion 1

Green chili 2

Black pepper powder 1 tablespoon

Coriander leaves finely chopped 2 tablespoon

Cumin 1 teaspoon

Salt as per taste

Oil 2 tablespoon

water as required
Instructions
Preheat the oven at 220°C for 10 minutes in grill mode.

Take a baking tray and place capsicum, onion, garlic, brush with oil and sprinkle black pepper powder. Grill the vegetables in preheated oven at 220°C for 15 - 20 minutes or until the vegetables are partially charred.

Cool the vegetables, peel the skin and keep this aside for grinding.

Take a mixer jar, add the grilled vegetables, green chili and coriander leaves. Make into fine paste. Keep this aside.

Take a wok, heat oil, add rice and fry till you get nice aroma or slight change in colour. Add required quantity of water, salt cover and cook the rice.

When the rice is ¾ th done, drain and keep this aside.

Now a take a wok, heat oil, add cumin, fry. Now add the ground green paste, salt and mix well.

Add the cooked rice and mix well. Mexican green rice is ready to be served. Serving options: can be served with plain curd, onion raita or tomato sauce.
Notes
Mixture of herbs like pudina and coriander can be added for grinding. The quantity of green chili is variable depending on individual taste.