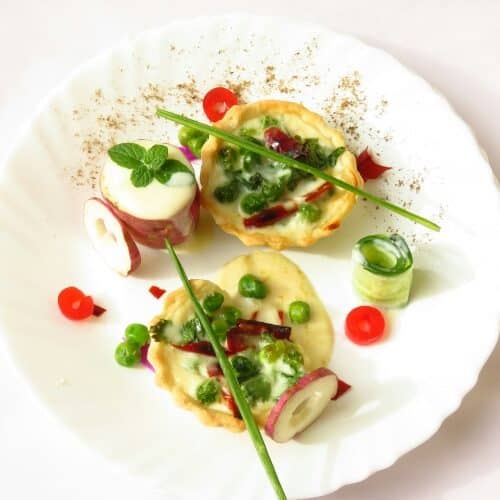 Mediterranean Tart With Cheese And Vegetable Filling
21 September, 2017
Mediterranean cheesy tarts These tarts are a combination of western short crust pasty tarts and the cheesy sauce with Mediterranean style vegetables. These tarts are served with variety Salads like Cheese shots in Sweet potato cylinder and Cucumber rolls. The vegetables for filling mainly consists of Sun dried tomatoes, Spinach, peas, spring onions, garlic, onions and flavored with dash of Zatar. Zatar is a unique Mediterranean spice used for making breads, dressing etc.
Ingredients  
1

small onion chopped

2-3

garlic cloves

4

tbspn Spinach leaves

5-6

sun dried tomatoes

1

tspn olive oil

Salt to taste

For Short Crust Tart: 1/2 cup All purpose flour

3 tbspn butter, 4 tbspn milk

For presentation : one half boiled Sweet potatoe

one thin sliced cucumber sheet

For Cheese Sauce : 1/2 cup milk

2 tbspn all purpose flour, 1/2 cup goat cheese, 1 tspn butter
Instructions 
For Short crust tart In a bowl add the flour, butter, milk and form a soft dough Keep the dough in refrigerator for 30 minutes. Then make 2 equal portions of dough, roll that into circle and keep it in the tart mould. Bake them at 200C for 15 min

For Cheese sauce In a pan , add butter and add the all purpose flour and stir well for about 2 minutes Then add milk to it and add the grated goat cheese. Stir continuously for about 5 min. Till the sauce becomes dense

For fillings, in a pan add olive oil To that add onions, garlic and sauté for 2 min. Add the peas, spinach, sun dried tomatoes and sate them well for about 3-4 min. To that add salt and pinch of zatar. Finally add 5 tbpsn of cheese sauce to it

Now assemble the tarts by adding the filling in the tarts and bake them again fro about 10 min at 250C

In a plate arrange the tarts. Now make the salads and other dressings using cylinder cut sweet potato. Fill it with cheese sauce. Apply sauce on the slice of cucumber and roll it up

Arrange the platter as per the image This kind of platter is a real eye catcher for parties, kids fun etc.