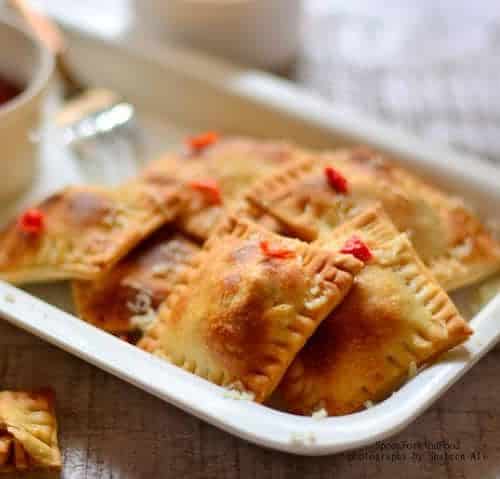 Mc Donald'S Style Paneer Mcpuff
23 June, 2016
Who doesn't like junk and unhealthy food ? Well everything served outside is not suppose to be unhealthy. I am a die heart foodie but somehow or the other I don't enjoy these branded junk foods much. I very rarely crave for Pizza, Burger etc, hence I am a very rare visitor at these places who serve these stuffs. But like any other child, my son Abeer is total opposite to me. He loves to indulge himself into all such so called 'junk foods' and I won't be surprise if he choose to live on them forever. So because of my son, both me and my husband keep going to such places once or twice in a month. After Dominos and Pizza Hut, Abeer has now fallen in for Mc Donald's. In his words its his most favorite food joint that serves him world's best Burgers and Puffs. Now after such a bold statement, i had to try some Puffs too. Lined pastry sheet pockets filled with a saucy paneer and bell pepper filling was really something worth spending money. Yes, I won't deny, i loved it completely and had a lot of them.
Ingredients  
All Purpose Flour 2 cups

Ghee / Butter 2.5 tbsps

Salt 1.5 tsps

Water 1 cup

For Filling :

Finely Chopped Paneer / Cottage Cheese 1 cup

Finely Chopped Capsicum 1

Chopped Red Bell Pepper 1/2

Finely Chopped Garlic 1 tbsp

Green Chili Sauce 1.5 tbsps

Black Pepper Powder 1/2 tsp

Salt 1/4 tsp

Butter 1 tbsp

Sugar 1 pinch
Instructions 
For Making Pastry Dough : Sift flour in a large mixing bowl, add salt and butter and mix to form crumbles. Start adding water and knead to make a soft and smooth dough.

Cover the dough and keep aside to rest for 15 mins. Meanwhile prepare filling.

Heat butter in a wok and add chopped garlic and sauté till golden.

Add chopped capsicum, red bell pepper, salt and black pepper and sauté till soft.

Now add all the three sauces and stir well for 2-3 minutes.

Add finely chopped paneer pieces into the saucy mix and stir such that everything incorporates well.

Sprinkle a pinch of sugar, give a quick mix and set aside to cool.

Pinch a large tennis ball sized dough and roll to make a ball. Place the dough ball on the dusted counter and roll out to make a thin sheet. Cut the sheet into equal sized 2 x 2" squares with a knife or a pizza cutter. Remove the extras & set aside.

Take 1 tsp of the filling and place on the center of one square.

Wet your index finger with water and slide across the sides of the square sheet. Place another similar sized sheet over it and press the sides gently. Make impression with a fork across the sides to seal.

Place the puff on a lined baking tray. Similarly make more puffs and place them on the baking tray. (You can make square, round, crescent shapes etc)

Pre heat the oven at 180 degree C for 15 mins. If your oven does fast heating then pre heat at 150 degree C. Remember the temperate of the oven differs hence the baking time should be regulated accordingly.

Bake the Paneer Puffs for 15-20 minutes or till you see them turning crisp and golden. Transfer them on a wire rack for 2-3 minutes and then serve with your favorite dip or a simple tomato ketchup does well too.