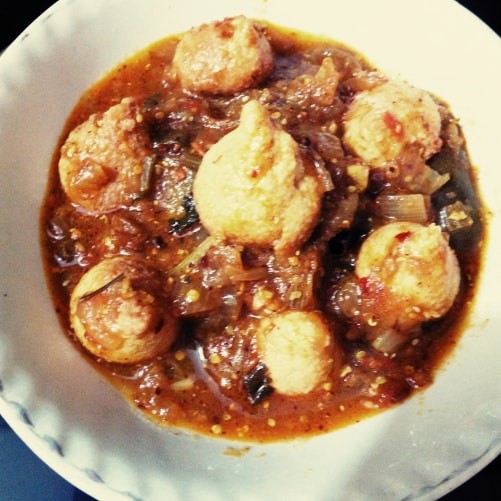 Masala Moong Badi
Moong dal is a soft pulse. Badi is very common in Bengali recipe. Those who doesn't like to eat onion garlic they frequently cook curry with badi. Those who eat nonveg they also cook with badi. It is very easy to digest and gives a roasted flavor.
Ingredients
Moong badi 100 gm

Chopped capsicum 1 cup

Ginger paste 2 tsp

Couscous paste 1/2 cup

Green chilli chopped 2 tsp

Turmeric powder 1 tsp

Cumin powder 2 tsp

Coriander powder 2 tsp

Red chilli powder 1/2 tsp

Cashew nuts paste 2 tsp

Tomato paste 1/4 cup

Salt to taste

Oil as required
Instructions
In the same pan add ginger paste, cumin powder, coriander powder, red chilli powder, chopped green chilli, chopped capsicum, turmeric powder, tomato paste, cashew nuts paste and couscous paste.

Mix well and stir continuously add 1/2 cup water and close the lid for a few minutes. Add fried badi cook again for a few minutes.

Serve with steam rice or chapati.
Notes
Moong badi is very soft so don't over cook.