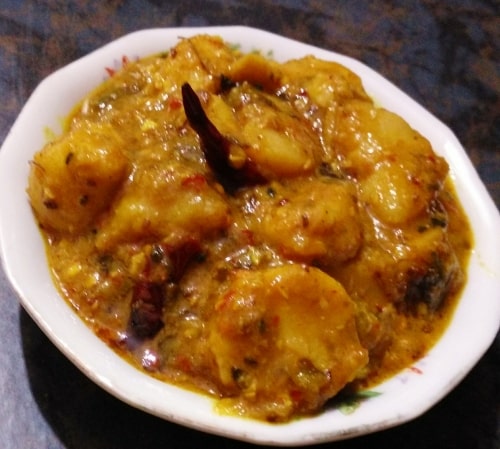 Masala Arbi
Arbi is usually called colocasia root or taro root in English. As another responder said, in English the name is Eddoe and is related to taro. In the US, they would call in "taro". Colocasia root is the English name of Arbi.
Ingredients
Boiled Arbi 250 grams

Ginger paste 2 tsp

Turmeric powder 1 tsp

Coriander powder 2 tsp

Half dust red chilli 1 tsp

Carom seeds 1/2 tsp

Kasoori methi 2 tsp

Curd 1/2 cup

Bengal gram flour 1 tsp

Whole red chilli 2

Asafoetida 1/2 tsp

Oil as required

Salt according to taste
Instructions
Now add oil in the same heated pan. Add whole red chilli, carom seeds, asafoetida, coriander powder, turmeric powder, half dust red chilli, ginger paste and bengal gram flour. Saute then mix well.

Now add curd and stir, add shallow fried arbi. Drizzle with little water and salt. After cooking at last add kasoori methi switch off the flame and close the lid for standing time.

Serve with main course, steam rice, chapati or paratha.
Notes
Should not over cook otherwise glacial effect will become dull.