Recipe Taste
Not Specified
Yield / Serves
10 Servings
These marbled cuppies are perfect for a any celebration or parties. They are light, moist and eggless. Easy to whip.
Whole wheat flour 11/2 cup or (maida + wheat flour 1:1)
Hersheys Cocoa powder 2 tbsps
Seive the flours 2 to 3 times with the baking powder to make it light and airy.
Add the castor sugar to the curd and whisk till well combined. Add the oil and vanila essence and whisk further till a homogenous mixture is formed.
Now add the baking soda to the curd sugar mixture and leave aside. Mix the vinegar to a cup of milk and leave aside to curdle. Add the cocoa powder to the 3 tbsp milk. Stir till no lumps are seen.
Now add the flour alternating with the buttermilk mixture to the curd mixture. Mix using Cut and fold method.
When the batter is completely mixed remove 1/2 cup of batter aside. Add the cocoa milk mixture and whisk well till combined.
Prepare a muffin tray. Grease with oil or butter or line with cupcake liners. Spoon in till 3/4 of a liner. Fill in all the liners. Now spoon in the cocoa mixture over it at the centre in every cup.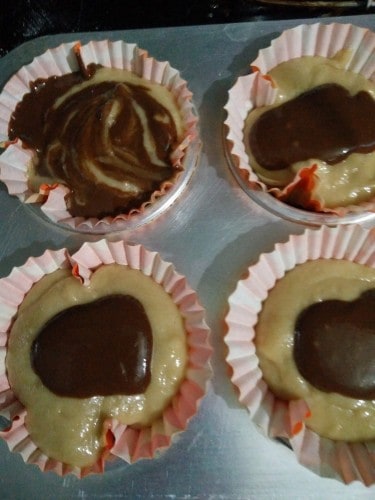 Take a toothpick and make swirls
Bake at 170 for 20 to 25 minutes. Check for doneness towards the end. If the skewer comes out clean then it's done. Else bake further for few more minutes.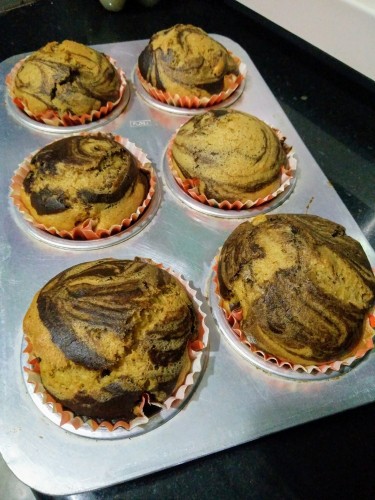 Adding baking soda to the curd mixture and allowing it to rest for a while will help to froth.
Vinegar added to milk will curdle it to make buttermilk. Helps to get a soft texture to the cuppies.
1 cup castor sugar will make it just sweet enough. Can add more if you like it on the sweeter side.
How useful was this post?
Click on a star to rate it!
Rated 4 based on 1 votes
Be the first to rate this post.