Mango, Raspberry, Peach Chiffon Pie!
Recipe Taste
Not Specified
Yield / Serves
8 Servings
This was inspired by the competition its self! I wanted to make something with multiple fruits and textures!
Crisp Dough - 28.5oz (total)
Ground Cranberries - 1 Cup
Corn Starch - 1tsp per fruit
Cold Water - 3Tbs per fruit
Cold Water - 3Tbs per fruit
Lemon juice - 1tsp per pan
Egg Whites - 3oz (6 sm or med eggs)/ (4 lg eggs)
Whip Cream - 11oz (total)
Heavy Whipping Cream - 8oz
Add room temperature shortening and flour to mixer to combine
add salt and sugar to cold water until dissolved completly
add salt, sugar mix and cranberries to flour in mixer
mix until the it forms a ball
refrigerate for 4 hours in a greased bowl and covered with plastic
pull dough fro refrigerator, flour surface and rolling pin, roll to the desired size, place in pie pan and use fingertips to push dough into each corner and flatten out the bottom
dock (poke holes) with a fork in the bottom of the pie dough, place a pan of equal size on top to keep the dough from rising
Bake at 375 degrees F for 10-20 minutes, rotate 1/2 way through the baking process
pull out and let cool at room tempeture
whilst baking, thaw the fruit/berries and collect the juice in pans, separate ones for each fruit (if the fruit does not yield much juice than puree the whole fruit and add it to the pan) turn on to medium heat
Start to whip egg whites until they are at stiff peak stage
Combine the cornstarch with cold water to make a slurry (thickener) and add to each berry/fruit juice or puree. Continue to cook
Bloom the Gelatin in cold water and add to each fruit, cook to nape consistency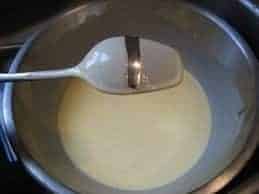 Divide the egg whites between the different fruit than fold to combined, pull from the outside to the middle of the bowl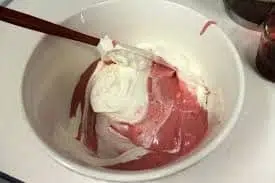 pour the fruit mix into the crust, use a spatula to level out the layers, and let them set for 30 minutes before adding another layer. refrigerate at least 1 hour before topping with whip cream to prevent sinking into the pie
For the whip cream add Heavy cream, lime juice, sugar and lime zest into mixer and whip until soft-stiff (personal preference) and pipe onto pie
For gluten free try a parfiat of the filling, keep the different fruit layers seperate for a really nice look and use a piping tip for the whip cream
Any fruit can be substituted
Different flours have different ratios so they can be substituted if needed, it will not be exactly the same amount
making the addition of food coloring to enhance the colors of the layers is not nessassary but can make a difference in presentation
How useful was this post?
Click on a star to rate it!
Rated 4.4 based on 7 votes
Be the first to rate this post.
Copyright © 2021 Plattershare
Affiliate disclosure: As an Amazon Associate, we may earn commissions from qualifying purchases from Amazon.