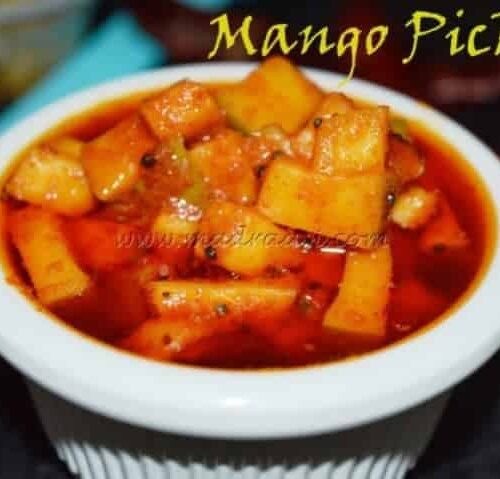 Mango Pickle
17 May, 2016
Coming to pickle, I never like pickle and the only pickle I like is garlic, that to happens very rarely. But hubby likes pickle particularly Mango pickle to the core. Have heard from his friends and their family that he makes pickle very well, but I have never ever had it. Today was right day for me, yeah he made Mango Pickle for me – yippee happy me. The very first time I like the aroma, color and flavor of the pickle. I feel loosing me in the wonderful aroma of the Pickle (from the hands of my love). The pickle was aww with little tanginess and spiciness, now I like mango pickle to the core. A very easy, simple and yummy pickle which can be prepared by anyone. Let us move on to the recipe…
Ingredients  
Mango – 2 nos

medium size

Chilli powder – 2 tsp

Fenugreek seeds – 2 tsp

Sesame / Gingelly oil – 6 tbsp

Mustard seeds – 1 tsp

Asafoetida – a pinch

Salt – 2 tsp
Instructions 
Wash the mangoes in running water, wipe with a cloth or tissue paper.

Finely cube the mangoes into pieces.

In a wide mouth bowl, add in the cubed mango pieces, add the chilli powder, salt. Mix well for few mins.

Let it rest for 18 hrs, cover with a net or cloth and do not cover air-tight.

Roast the fenugreek/methi seeds, bring to room temperature and grind them to a fine powder. Store it in an air-tight container.

After 18 hrs, heat oil in a kadai, add in the mustard seeds and asafetida, wait until they crackle.

Add in a tsp of fenugreek powder and cook for few seconds.

Pour the tempered oil to mango pieces and mix well.

Let it rest for another hour.

Transfer it to a glass bottle or any air-tight container.

Goes out well with curd (yogurt) rice or any variety rice or biryani or pulav.
Notes
Note: Do not put your hands to the mangoes or the pickle, it will get spoilt quickly. Else will stay fresh for more than a month in room temperature and stays fresh almost a year once refrigerated.