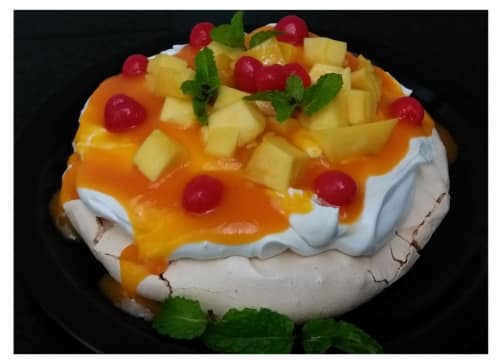 Mango Pavlova
1 May, 2017
A delightful dessert from u.k which has a meringue base , with loads of fresh cream and topped with fruit. The fruit that I used here is mango.
Ingredients
For meringue base :

Egg whites - 2

Castor sugar - 1/2 cup

Vanilla extract - 1/4 th tsp

White vinegar - 1/2 tsp

Cornflour - 1/4 th tbsp

Other ingredients :

Whipped cream - 1 cup

Mango puree - 1/4 th cup

Mango pieces - 1/4 th cup

Cherries - 10-12
Instructions
1. Whisk the egg whites till soft peaks are formed.

2. Add sugar slowly while whisking the egg whites.

3. Add the vanilla extract as well and whisk till hard peaks are formed. This takes about 6-7 minutes of whisking.

4. Now add the vinegar and cornflour and with a spatula, fold them in.

5. Line a bakingtray with butter paper and pour the meringue mix on it forming a rough circle.

6. Bake this in a preheated oven at 130℃ for 1 hour and then switch off the oven.

7. Keep the doors of the oven open and let he meringue cool inside it completely.

8. I have made the mango puree at home by blending the mangoes and cooking it with little sugar.

9. The amount of sugar added depends on the sweetness of mangoes and can be decreased or increased according to personal taste.

10. I have whipped the cream at home without adding any sugar to it. Any kind of good quality cream can be added.

Assembly : To assemble the pavlova, on a dessert plate, put the meringue base, add generous quality of cream on top. Then pour the mango puree and top it with chopped mangoes and cherries.