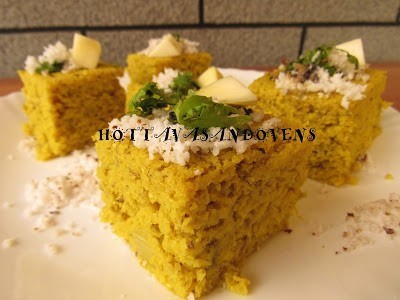 Mango Maize Dhokla
29 June, 2016
Maize dhokla is made of maize flour perked up with curds and mango puree for tanginess and other masalas for spice.The highlight of the recipe is the mango puree to the batter, which gives mangoy taste to the dhoklas. Adding fruit salt to the batter before steaming ensures that the Dhokla is succulently soft, while the coconut gratings enhances the taste! Enjoy this delectable snack with a cup of hot chaai.
Ingredients
Maize flour - ½ cup

Rava / semolina - ¾ cuo

Besan - 2 tbsps

Raw mango puree - 1 cup

Buttermilk - 1 cup + 1 cup to take mango puree

Ginger garlic green chilli paste - 1 tbsp

Salt - to taste

Eno fruit salt - 1 ½ tsp

INGREDIENTS FOR SEASONING

Cooking oil - 2 tbsps

Mustard seeds - 1 tsp

Asafetida powder - ¼ tsp

FOR GARNISHING

Freshly grated coconut - 2 tbsps

Coriander leaves chopped - 2 tbsps

Mango pieces - 5 or 6 pieces
Instructions
Grate raw mangoes and blend it with one cup of buttermilk and keep aside.

Take a bowl add maize powder, ginger garlic green chilli paste, semolina, besan, salt, mango puree and remaining one cup of buttermilk and keep aside for 30 minutes.

Meantime grease a pan to steam the batter.

If you feel the batter is thick after 30 minutes add some more buttermilk . should be in idli batter consistency.

Add a ½ tsps of eno fruit salt with one table spoon of water and mix well it with the above batter.

Pour the batter into the greased pan and steam immediately for 15 to 20 minutes.

Mean time heat oil in a pan add mustard seeds, asfoetida powder

Allow it to cool and make square pieces and garnish it with seasonings, coriander leaves and grated coconut.

Mango maize dhokla is ready to serve

Serve with coriander chutney or sweet chutney.