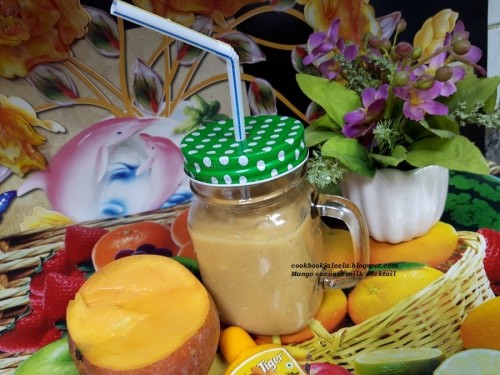 Mango Coconut Milk Cocktail
Mangoes are an excellent source of vitamins A and C, as well as a good source of potassium, and it contain beta carotene. Deliciously rich in anti- oxidants, pottasium and fiber. - the mango is the perfect fruit Truly "The king of Fruit"
Ingredients
Mango - half of one

banana – half of one

chikoo – one number

guava – half of one

honey – to taste

thick coconut milk – ½ cup

75 ml

thin coconut milk – ½ cup

100 ml

fresh milk – ¼ cup

ice cubes – 4 nos

for garnishing

cashew nuts

raisins

mint leaves

Tiger Brand Mange Essence - 2 drops
Notes
Note : Instead of honey you can add sugar or brown sugar.
Instead of guava and chickoo you can add fruits ,mango with kivi and papaya , taste all good