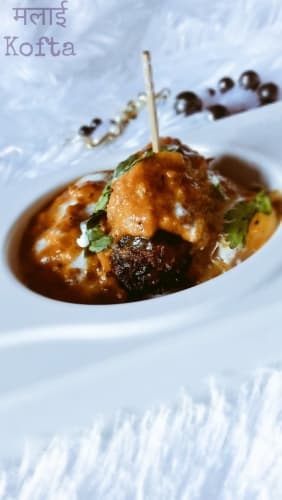 Malai Paneer Kofta
Malai Kofta Malai Kofta is a rich gravy with fried balls,which is normally served in marriages or functions and very much demanded in restaurants. Malai kofta gravy is an absolute delight for all the vegetarians as well as non-vegetarians.This dish is originated from Mughlai Cuisines. Usually Malai Kofta consists of potatoes,but i haven't used potatoes in it,so its a healthy version with taste. The rich and creamy gravy is without cashews,but no-one can say that,because the thickness and texture is just the same as,its with the cashews!You can also make shahi paneer's gravy with the same recipe. The fried balls are so yummy that my kid just gobbled them all ,before i could mix them up in the gravy. Haha! These koftas are crispy from inside and very tender from inside.You can enjoy this Malai kofta with Naan,roti or hot steaming rice. This is a must try recipe at your home get-together parties and even specially on weekends.I got a compliment from my Hubby,that the dish was"awesome",so if you also want to get this compliment from your family and friends,then do try out this creamy rich dish.
Ingredients
For koftas 100 grams - paneer

cottage cheese(grated)

1/2

a cup cabbage

shredded

1/2

a cup finely chopped spinach

2

tsp

finely chopped coriander

1

and 1/2 tsp cornflour powder

Oil for frying

2 to 3

chopped green chilies

Salt 1/2 tsp

Black pepper powder - 1 tsp

2

slice

of bread

Milk 2 tbsp

For gravy - Onions- 2 medium sized

roughly chopped

Tomatoes - 3 to 4 big sized

roughly chopped

Garlic cloves - 7 to 8 pieces

Red dry chilies - 2 to 3

optional

Coriander powder - 2 tsp

Turmeric powder - 1 tsp

Red chili powder - 1 and 1/2 tsp

Dry mango powder - 1 tsp

Salt as per taste

Sugar - 1/2 tsp

Cumin seeds - 1 and 1/2 tsp

Milk - 1/2 cup

Fresh malai or cream - 2 tbsp.

Green coriander and cream for garnishing.
Instructions
Firstly take a wok and add your chopped spinach and grated cabbage in the wok and roast it for few minutes without any oil,just dry roast to get rid out of the moisture in the vegetables.When the moisture gets vanished,keep it aside and let it cool.

Now take a bowl add grated paneer,coriander leaves,green chilies,spinach and cabbage in it. Add cornflour also.Now take the bread slices and pour some milk on it . When the bread turn out to be soft and little wet,take out its sides.

crumble the bread and mix it in the bowl. Add salt and pepper powder and mix the mixture very well with your hands and make a soft dough out of it.

Now divide the dough into small portions and make small round balls or long sized balls as per your choice. Now take a wok add oil and heat it up.

For the gravy Take a wok add 1 tbsp oil and heat it up. Add cumin seeds and dry red chilies and let it crackle. Now add onions in it ,and fry them till they turn translucent in color.

Now add garlic and tomatoes and stir them also. Now add salt,sugar,turmeric powder,coriander powder,red chili powder and mango powder and mix it well. Now add 1 tbsp of malai/fresh cream and mix it again.

This process will take around 10 minutes. Now switch off the flame and let the masala cools down. When the masala perfectly cools down,grind it in the mixer grinder and make a paste.

Now in the same wok add 1 tbsp oil,heat it up and add the tomato onion paste in the wok. Stir it till 2 boil comes up. Now add another 1 tbsp malai and milk in the gravy.

Now after 2 to 3 boils,add little water in the gravy.(little water not a cup full of water) Lastly when the gravy starts getting thicker add fried balls (kofta)in the gravy and switch off the flame