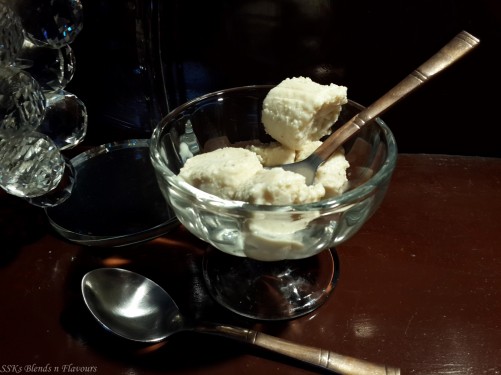 Malai Kulfi
'Kulfi', one of the renowned Indian desserts since Mughal's era, appeals everyone with its creamy, silky soft texture and mild flavour. Though it looks like an ice cream, kulfi differs in texture, taste and method of preparation.The traditional method of preparing kulfi require simmering/condensing the full cream milk with sugar and flavours to get thick, caramelized rabri that is frozen in kulfi moulds or small earthen pots/matkas. Here, I have prepared a very basic version of kulfi called 'Malai Kulfi' that has finely chopped dry fruits and a subtle flavour of kewra. As per the conventional method, I have condensed the full cream milk over low heat along with sugar. In order to enhance the texture and taste, I have added small quantities of bread crumbs, milk powder and homemade malai.
Ingredients
Full Cream Milk- 1 litre

Sugar- 1/2 cup

Fresh Cream/Malai- 1/4 cup

Bread Crumbs- 2 tbspn

Milk Powder- 2 tbspn

Dry fruits

Almond, Cashew and Raisins - 1 tbspn each, finely chopped

Cardamom/Elaichi powder- 1/2 tsp

Kewra Essence- 2 or 3 drops
Instructions
Boil milk in a thick-bottomed vessel/kadai. Add sugar and mix well. Keep stirring until the sugar gets dissolved.

Simmer it over medium/low heat. Keep on stirring the milk from time to time until it reduces to half the quantity. At this stage, the condensed milk looks like rabri.

Grind 2 tbspn each of bread crumbs, milk powder and 1/4 cup of malai to a thick paste. Add the grounded paste to the simmered milk and let it boil for a min or two.

Remove the kulfi mixture from flame and bring it to room temperature. Add finely chopped dry fruits, elaichi powder and kewra essence.

Chill the mixture in refrigerator for 1/2 an hour. Fill the kulfi moulds with the chilled mixture and freeze for 5-6 hours.
Notes
Use wide-surfaced utensil/kadai to shorten the cooking time while condensing the milk.
Do not add dry fruits and essence when the mixture is hot.
Fill 3/4th of the mould as kulfi gets expanded while freezing.
If you are using the kulfi sticks, insert them when the kulfi is half frozen (after 2 hours).
http://ssksblendsnflavours.blogspot.com/2016/09/malai-kulfi.html